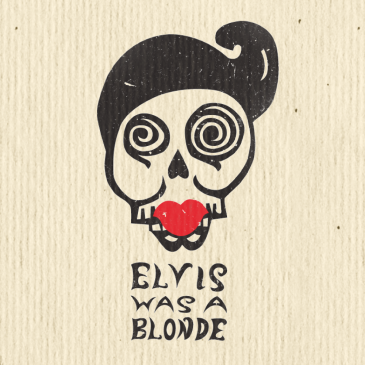 The first twenty times that I listened to this album, I didn't realize what all the fuss was about. Then I realized I'd listened to it twenty times, and had to concede that the boys behind the now-defunct Women of Britain have something here.
Hazily described as psychedelic cabaret dance-punk, the first release from Elvis Was a Blonde is four songs of in-your-face, conjuring a little bit Pixies, a little bit dirty tequila bar.

Opener "Gin" is a smart, sub-two-minute introduction to the group's interesting gypsy instrumentals and Alex Smith's melodramatic yelping. The song itself might be about over-imbibing (the wacky, off-kilter tempo certainly lends to the idea) but the real theme of the track is one that perpetuates itself across the whole EP: these songs don't take themselves too seriously, and shouldn't be enjoyed without dancing shoes on.
"Funeral Jack" gets off to a slow start with ragged, bar-room-piano plinking and stop-start verses, and never really picks up enough steam beyond its cantankerous vaudevillian beat to be as massively entertaining as the other tracks on the EP.
Considering the album was recorded mostly live and mixed by the band, everything on the self-titled debut sounds remarkably good, especially in closer "Walking Wolf" and its dirty, surfy guitar crunch. Elvis Was A Blonde have a raunchy, off-the-rails summer hit on their hands.