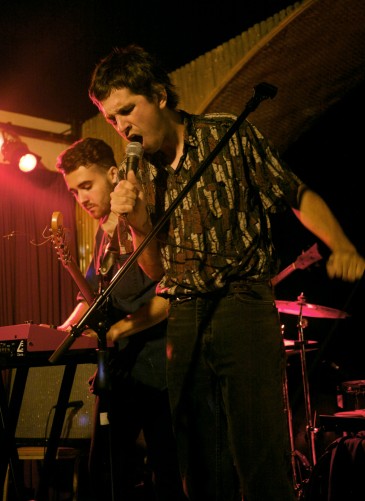 By their very nature, Wednesday night shows can struggle to bring in the weekend warriors. Fearing a night that could fizzle, whir and fall between the cracks, I arrived to a widely spaced crowd in the Waldorf's enamouring-yet-tacky tiki bar just as local three-piece My Friend Wallis started.
Their psychedelic pop was easy going and singer Crystal Dorval's distortion-heightened and haunting vocal delivery called to mind His Name is Alive most assuredly. It was a good way to start the night, and a few more folks joined the tiny throng while the group's gleaming guitar jangle brightened the room.
Though given top-billing, Montreal's Pat Jordache surprisingly shuffled on stage next. Backed by four firm musicians, shimmering guitar, rolling bass, silky synths, and, at times, double drum assaults ensued.
Sticking mostly to material off of his dazzling debut, Future Songs, Jordache made for a generous luminary, graciously thanking the showgoers and maintaining the electricity as if the house were packed. Kicking off the set with the atmospheric post-punk rumble of "Get It (I Know You're Going To)", with its budding K Records vibe (think Beat Happening and the Halo Benders), their presentation was impossibly infectious.
Jordache's baritone sent out shivers, particularly on new material like "Escape", which combined the nervous birr and subdued minimalist synth-saddled gate of art-school experimenters Talking Heads. "Song for Arthur" provided a similar stout, as did the stripped-down tempering of "The 2-Step", clearly indicating how, with a crack band backing him, Jordache's recorded material takes on new gravity in a live context.
When he wrapped up his set with the charismatic anguish of "Phantom Limb," it's fair to say his set was a marvel, yet seen by too few. Having barely begun a long summer of touring ahead of him (including a recent well-received Sled Island date), bigger buzz, larger crowds and further recognition surely lay in wait.
Party punkers and saxophone enthusiasts Slam Dunk, also fresh from some Sled Island performances, found themselves closing out the night. A quick and playful quintet, I'd last seen them in their hometown of Victoria doing some peppy re-imaginings of Tusk-era Fleetwood Mac. Playing in the wake of Jordache wasn't an enviable position to be in, though, as the thin crowd had receded even more by the time they commanded the room. Admittedly, I was out the door after their first song.