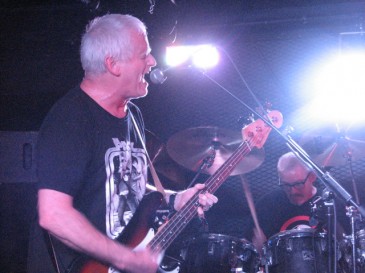 NoMeansNo has a sound that never really gets old to me. Sure, they've been called old; brothers John and Rob Wright formed the band in 1979—that's 32 years of live shows! Guitarist Tom Holliston has been in the mix since 1993, so these three guys know how to play. If you missed their Thursday-Friday, two-fer weekend at the Biltmore Cabaret, you missed out.
Bathed in a yellow-white glow of incandescence, the Biltmore's size perfectly matched that of the crowd, providing a level of intimacy similar to seeing them at a friend's basement show. A frequent haunt of the band, the trio exuded comfort and control, clearly enjoying their time on stage. Appealing to the fans, they played double-encores both nights.
The first night was a benefit show dedicated to long-time friend, California-based Dave Melrose, with proceeds going to his cancer treatment. Melrose handled the merch table and was often confused throughout the night as a band member, humbly thanking fans at the end of the night who congratulated him on a great set.
On Thursday night, local indie post-pop band Beekeeper played to a tough crowd. Light vocal harmonies juxtaposed with screamo, or candy pop and heavy on the digital keyboard. They played a tight set, yet maybe tried in vain to win over the crowd of NoMeansNo devotees.
By the time the headliners hit the stage, anticipation was high, especially among the young, shirtless guys in front. Rob Wright's heavy bass lines churned people into motion and the raucous crowd pushed people toward the front all night, spilling onto the knee-high stage. It didn't matter. Finding oneself onstage was a good excuse to crowd surf back into the pit of sweat and serenity.
The Ford Pier Vengeance Trio opened the Friday gig. Ford Pier, who has played in a number of different bands, including D.O.A., goes way back with the members of NoMeansNo and the B.C. music scene. Think melodic hardcore pop, mixed with drawn out instrumentals and erratic tempo changes.
Both NoMeansNo sets featured "Jubilation, " a track off 2010's Tour EP 2. The music had energy and a magical mix of incredible technique, evidenced by the impassioned performance. They showed that they could play as fast and hard as they did 20 years ago with record quality precision. Fans in the know turned to each other screaming lyrics and pumping fists in unison to favourites off their seminal Wrong album, like "Rags and Bones" and "Two Lips, Two Lungs and One Tongue," which Rob joked they were "contractually obligated" to play.
You could see the exuberance in Rob as sweat dripped off his knuckles onto his bass. Holliston's facial expressions revealed the focus and hypnotism that seemed to wholly take over his body while he played guitar. John, meanwhile—who Dave Grohl refers to as one of his inspirations–kept his head down as he laid down the beat. A cacophony of beautiful noise emerged with the skill and expertise of true artists and performers.
All three musicians bring their unique talents and strengths to the stage, but what makes the music is their ability to listen to each other and anticipate quick changes. It's not a predictable, tired, old married couple type of familiarity with their songs. Both nights found them embracing the energy in the room with two-hour sets full of as much enthusiasm as a band 30 years younger than them.
If it says so on a NoMeansNo t-shirt, it must be true: Old is the new Young.