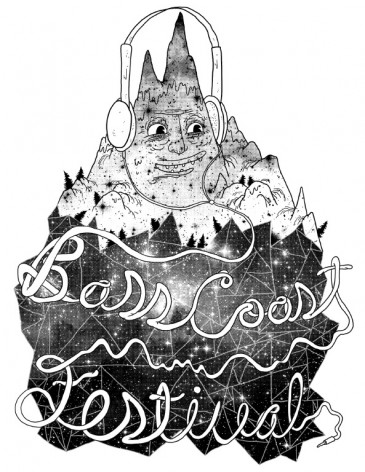 There is something happening in the woods. It taunts the night owls out of their nests as forest floors devour bass lines while mountains watch over with protective eyes. The river, meanwhile, will seduce you, coaxing you to dance with her, playfully flirting with the sun then sending off on your next adventure. This is the magical world that is the Bass Coast Project. Don't forget your sunscreen, this gem of a festival happens right in our own backyard—just 15 minutes outside of Squamish and pulsing with West Coast soul.
Andrea Graham, Andrea Oakden and Liz Thompson are the godmothers of the electronic music and art festival, which they founded in 2009. The trio had been working on various artistic projects together for years when they realized that there was a niche to be filled near Vancouver. Discorder caught up with the Squamish-based Graham, otherwise known as The Librarian, over Skype to discuss the event. The conversation took place the day after her wedding. Fittingly, the night resolved in an all night dance party.
"We have a long history of going to festivals and we realized that there was nothing really in our area," Graham says. "There was a big hole in the festival circuit. That's when we started searching for a location." Held at the Squamish Valley Campground, the location is one of the most striking and defining aspects of the event. "When we found it, it was so beautiful, it was inspiring in itself. The mountains and the white sand beaches, they really give the festival a lot of personality and direction."
From its locale to its sponsors, the project is very West Coast in nature. "We try to use the local businesses as much as possible, really trying to work with the local valley residence," Graham explains. "It really helps that we are local; it's so important to build good relationships with everyone."
The fest is also locally-minded in terms of its musical lineup. This year's schedule showcases more than 60 of B.C.'s most exquisite producers, DJs and artists crossing a number of electronic genres, including drum and bass, dubstep, IDM, experimental, downtempo, and more. From the avant-garde to the straight up bangers, it's a complex web of digital creativity.
Locals include Longwalkshortdock, who has slayed many a Vancouver dance floor, the drippy dub sounds of taal mala and the acclaimed headliner, Prison Garde.
"We believe that our West Coast talent is on par with the bigger [international] headliners that are coming out," Graham states, before pointing to out-of-towner highlights like the UK-based Ali B and Psychemagik, and San Franciscan hyphy artist Eprom. "We believe in the quality of every single artist on our lineup."
Bass Coast has evolved and reinvented itself with each installment. Graham says one of the major changes to look out for this year includes the revamping of one of the main stages. "The big stage that we are moving in to the forest is going to be a fully visual map stage with art surrounding you almost 360 degrees, so it's a really big project for this year. We're building different levels of platforms for dancing, and [we're] working with a whole team of visual artists to create a multi-sensory experience."
On top of the structural changes and inevitable lineup changes from year to year, Graham also points to the natural, outdoor setup changing things up every now and again. "Even in terms of the lay out of the land, the beach changes from year to year. … We always like to have at least one of our stages on the beach so that, during the day time, you can be relaxing with your feet in the water listening to music."
Another addition will be a functioning radio station that'll be broadcasting music, commentary and workshops. Not to be overlooked is the non-musical aspect of the festival. There will be a music video contest, a fashion show and various workshops and visual art installments, creating a well-rounded experience. Oh, and how could I forget the ladies mud-wrestling tournament?
While the organizers have long-term vision for Bass Coast, with the fest always evolving, at what point can something like this sustain itself before losing its initial focus? "We like the intimacy of the festival as it is," Graham says. "This past year we had 1,000 people, which was fantastic. It felt like you were able to meet everyone [and] were able to feel really familiar and comfortable throughout the weekend. That can only exist up to a certain number of people and then you lose that community." This year, Bass Coast's attendance will be capped at 2,000 people.
No matter the attendance, the success of the Bass Coast Project is a testament to the thriving electronic music scene in our fair city. "I think that Vancouver is really creating its own identity for music right now," Graham states. "Almost 99 per cent of the people on our lineup are producing in addition to DJing, so they are all influencing the music scene, and a lot of them are starting to be recognized on the international [or] global level."
"I feel that, in the last ten years, Vancouver has really come into its own," she continues. "It's really supportive and you can see it in the fact that every weekend there are great shows going on. It's growing."
As for herself, The Librarian is releasing her as of yet untitled debut EP in early July, which will be available at www.eastvandigital.com. If you haven't heard her sultry sets just yet, her style is deeply rooted in rumbling, low-frequency tones. "I love feeling of the [bass] frequency, but I also love melody and soul." Her live set will definitely be one of many to look out for at Bass Coast.
The Bass Coast Project takes place at the Squamish Valley Campground July 29 to August 1. More information about the lineup and list of events can be found at www.basscoastproject.com.