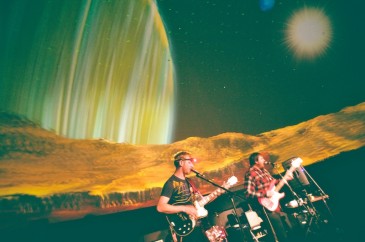 Some shows will be attended regardless of who plays them. Sasquatch, Music Waste or Shambala could have terrible lineups and still sell out instantly for the experience itself. Such, for many at the Monday night show, is the Planetarium. The show, a benefit for Girls Rock Camp and Space Camp at the Space Centre, was the night of the summer solstice and the first of its kind at the venue (as far as I can tell); it didn't disappoint.
When the first act, the confusingly named No Band, took the stage, the audience had been lounging in the peaceful red hues and reclining chairs of the star dome for long enough, simultaneously relaxing and getting excited for the start of the night. No Band's music complimented the atmosphere. Following some mellow chanting and a farewell address to spring from band leader Chris Martell, the six-member band launched into deep, cosmic jamming. Another early song, the first in the set to have vocals, seemed to suggest where the band's sound would go: upbeat, harmonic, and very 60's. From that point on, however, the band's sound leaned towards a more "rock" direction (think Eddie-Cochran "Summertime Blues.") This stylistic shift would have been fine, except for the increasingly confusing ad-libs and rantings from Martell himself. From brief mid-song riffs about the venue to a speech about uncles, Martell's ranting almost took away from the music. It was a shame that listening to him meant less time listening to the band.
The next set came courtesy of My Friend Wallis. Lead guitarist and vocalist Crystal Dorval's genuine songwriting talent, coupled with the ample reverb, journeyed between the infectious and introspective and was ably performed by the band (particularly, again, through Dorval's skilled guitar work). The band also seemed to have adopted the crowd's calm mood, and their set, save a few moments of guitar or drum trickery, was played with relaxed ease. The show we saw had a few lulls, including a few overly-reverberated moments that bordered on the ridiculous, but was more than memorable.
Apollo Ghosts, poignantly named for a show at a Planetarium, headlined. Opening with the intense "Day of Glory," singer Adrian Teacher quickly showed once again that he possesses a swagger like no other, and took the song's shrieks and whispers to their extremes. "Things You Go Through" had the once docile crowd on its feet, and "Coca-Cola Admen" got the scream-along treatment it so deserves. In general, though, the Planetarium centred on a state of zen one doesn't normally find in a room full of people who are ready to dance. Perhaps it was with this calmness in mind that Apollo Ghosts chose not to end their set with one of their many trademark party songs, but with a song as somber in composition as it is in name: "So Much Better When You're Gone."