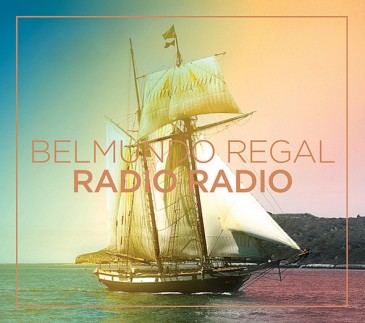 If you are digging outré hip-hop music this record might make you very happy. Radio Radio is a French-Canadian hip-hop trio whose music bears features of rap, disco and electro worthy enough to make the Polaris 2010 long list.
They rap in what might at first listen seem to be an invented language, a concoction of French and English. This is Chiac, a French-Acadian dialect that the musical trio is currently popularizing.
Aside from the energetic and colourful sound is the visual imagery the group conjures, musically. The image of smarmy guys with gold necklaces chilling on their yacht makes it fun to listen to because it's authentic and unpretentious. The romantic photo of a sailing ship on the cover of their second album is misleading, and just as ironic as their lyrics are. Standout track "Dekshoo" has got some interesting lyrical play with "Nice, nice / Avec mes Penny Loafers / Ou avec mes Deck Shoes" and so does "9 Piece Luggage Set," where they sing "Une valise, deux valises c'est pas assez / Y faut ma 9 Piece Luggage Set / J'su Jet Set."
Occasional funk and brass elements make this record a good and light listen for the summer. You might want to give yourself some time to come to appreciate their songs even if you're not the biggest rap enthusiast.