On November 14 at The Cobalt, Los Angeles-based Pearl Charles got off to a late start for a sparse crowd. Still, in the course of her short set, the 23-year-old won some Vancouver hearts.
Having formerly played with The Driftwood Singers and The Blank Tapes, Charles began her solo career this summer with the release of her eponymous EP.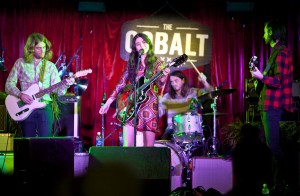 Her band was notably supportive and coordinated, radiating good vibes to the crowd below. Charles' dreamy stoner vocals blended seamlessly with the stable rhythm of the band. This first act seemed a stark contrast to The Shelters and Broncho, as the atmosphere they created was sorely missed for the remainder of the night.
After a short changeover, The Shelters took to the stage to celebrate the release of their debut EP. Also hailing from L.A., The Shelters emitted a very different sound. Occasionally rockabilly and frequently pop-punk, the band of four were high energy from start to finish.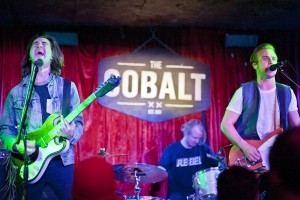 When they were in the process of setting up, I was immediately concerned by their look, as they exemplified a range of guys you would probably avoid at a party. But they were shortly redeemed. Performing at 100 mph, they poured with sweat through the end of their set. Although their songs began to blend together after a while, this band has major potential to gather a fan base seeking a good time.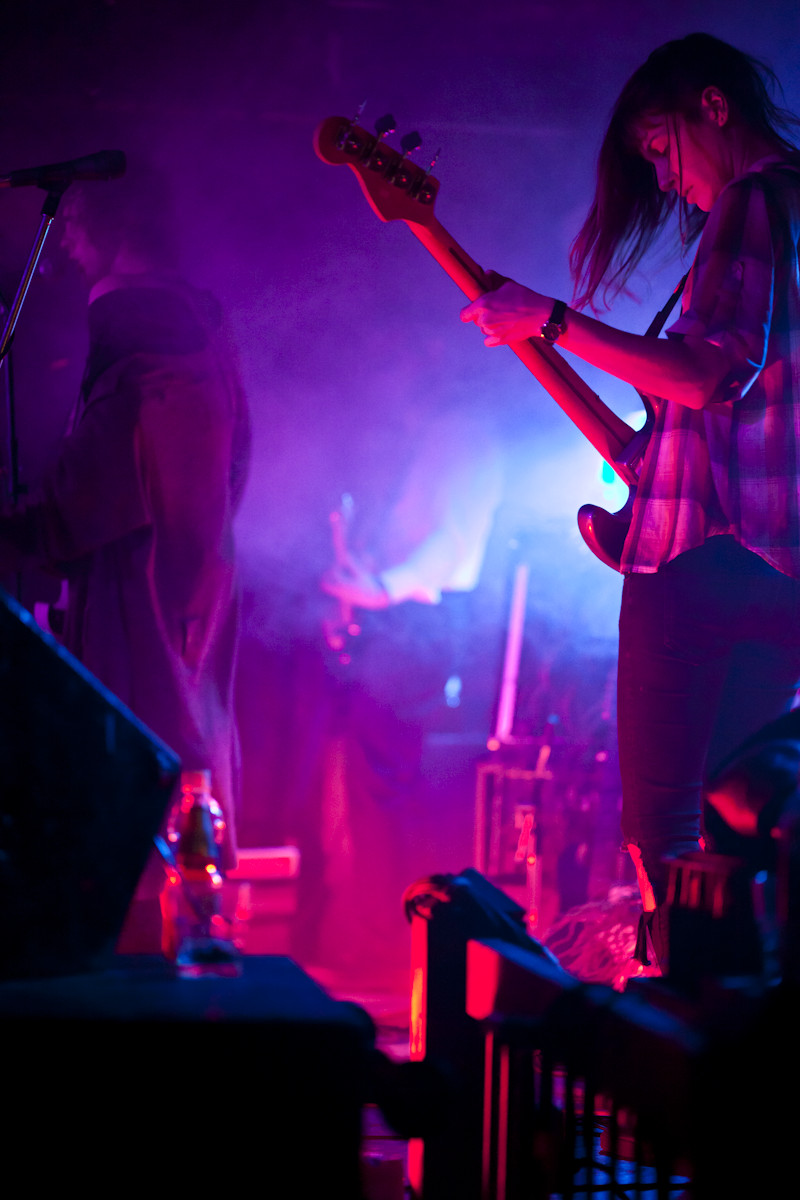 The Cobalt's Facebook event claimed that "curfew" was 11 p.m., but by the time Broncho was ready to perform, it was already 10:20. They had made the unusual choice of bringing their own lamps and ferns, which took a chunk of setup time. Still, even this small aesthetic touch shows that making minor show enhancements do not require a huge budget. With the help of a little bit of smoke, Broncho created an eerie, theatrical mood.
Maybe it was apparent to some, but I hadn't identified Broncho as an obviously mosh-worthy show. But halfway through the set, a fight — in other words, one guy moshing —  appeared to break out right below centre stage, but it was quickly extinguished. When the moshing was in full swing, the same man who had broken up the fight seemed not to have gotten the memo, because he nobly spent at least ten minutes trying to break up a twenty-person mosh pit. Broncho continued, unfazed.
Lead vocalist Ryan Lindsey is an undeniable showman. Despite his Oklahoma roots, Lindsey's stage persona is the spitting image of Mick Jagger, down to the pouted lips. And his words, already difficult to hear on the album, are entirely indecipherable live. The Shelters' set had been excessively loud, so Lindsey's frequent yelps were piercing and unwelcome.
Still, Broncho killed it with "What" and "Class Historian." We all knew "Class Historian" was coming, and we waited anxiously for its immediately recognizable opening. Broncho made the right choice in closing their set with the hit, ending on a high note and breaking curfew by 10 minutes.