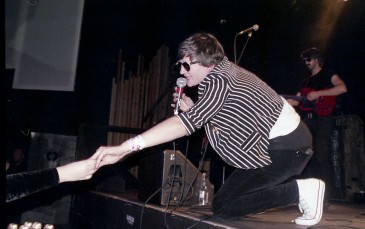 On November 23, at the Rickshaw Theatre, The Pizza Underground, Macaulay Culkin's pizza-themed Velvet Underground cover band, were set to co-headline with the slightly erotic and definitely sweaty pseudonym for R&B singer Sean Tillmann, Har Mar Superstar. Along with Vancouver's own Dead Soft set to open, I was in for an entertaining evening.
I arrived, like most people there, excited to see what Macaulay Culkin looked like now; I'd heard someone mention that he was growing to look more and more like Willem Defoe. Fifteen minutes after the venue opened, I was met at the doors by an employee apologizing for Har Mar Superstar's last minute cancellation: he was forced to miss both the Vancouver and Calgary shows due to severe sickness. Initial disappointment aside, I was still about to see Richie Rich in the flesh.
I walked inside to the sparsely populated theatre: two women were parked at the stage, front and centre, discussing Home Alone; a group of guys behind me wondered out loud if Macaulay Culkin would be outside in the alleyway; a slow, but steady stream of probably drunk, definitely happy people came in behind me.
I took a tour of the merch table covered in cassette tapes, punny stickers, pizza pendants, and novelty lamps. As I browsed, a Panago delivery man arrived and zoomed backstage with a formidable stack of pizza.
The show was about to begin. At nine o'clock sharp, Dead Soft took the stage: one of the most punctual grunge-pop acts I'd ever seen. With nary an introduction or a word between songs, the Vancouver band powered through 10 tight tracks. The crowd, still arriving, creeped toward the stage with feet tapping and heads banging; even the bouncer standing nearby was dancing along.
With a warm cheer from the audience, Dead Soft finished a solid set. Then the stage was cleared, save a keyboard, a guitar, a bass, some mic stands, and two stacks of pizza boxes.
It was 9:55, the crowd was slowly pushing forward and Culkin's name was echoing around the room in whispers of anticipation. The smell of pepperoni and parmesan cheese was thick in the air, and the lights grew dim.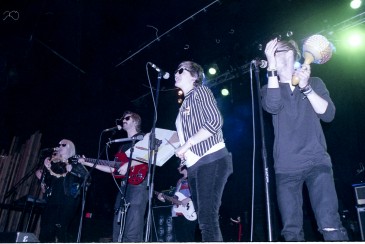 At 10 o'clock, the world's best pizza-themed Velvet Underground cover band arrived with a torrent of applause, all donning dark sunglasses, holding bottles of beer, and smiling from ear to ear. They began tambourine-ing their hearts out, bashing pizza boxes with drumsticks, strumming simple chords, and playing their pun-filled tunes that would make Lou Reed roll over in his grave — all while passing out pizzas into the crowd, for everyone to enjoy.
After a handful of songs, they took a quick break to introduce their side-projects: Plop Dylan, Bob Dylan songs re-written to be about poop; Pussy Joel, a cat-themed Billy Joel cover band; and Kurt Cobained, Nirvana songs sung in the past tense. Then they were at it again, with a fan-favourite "Take a Bite of the Wild Slice."
Though they giggled and sang through their hour long set, plainly enjoying themselves and the light-hearted atmosphere in the room, Culkin's mood shifted momentarily to a more somber, self-reflective note.
He asked himself out loud: "What am I doing with my life? Am I in a pizza band? Why are we doing this to ourselves?" to which his bandmate responded, "Because they just keep on looking at us." And if that isn't a fitting mission statement for The Pizza Underground, I don't know what is.