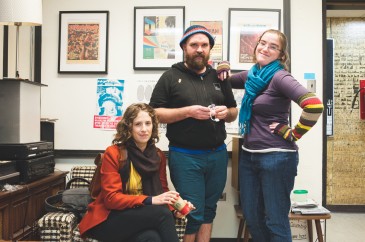 While CiTR is known for representing a diverse range of musical genres, about 13 per cent of the station's content falls under the realm of "spoken word" programming — which includes this month's On the Air, Alphabet Soup. Co-hosted by Matthew Walsh, Laura Tretheway, and Sarah Higgins, the show focuses on creative writing and storytelling produced by MFA Creative Writing students at UBC (a program of which the hosts also belong to). As Discorder found out, the show emerged from their desire to take the initiative and provide a platform for the unique creative writing coming out of UBC.
How did Alphabet Soup get its start on CiTR?
Walsh: Hugo, the volunteer coordinator at CiTR, came in and talked to our group of incoming MFAs about the radio station. I was interested in having a radio show and so as he was talking, I looked around the room to see who else might be interested. There was one other person in the room paying attention and nodding and it was Laura. We decided to do a radio show about what people are doing in the MFA program.
Tretheway: And we picked up Sarah along the way!
What attracted all of you to radio particularly?
Tretheway: There are really great writing podcasts out there. This is where I'm going to sound a little bit pretentious, but there's a really great New Yorker fiction podcast that we've somewhat modeled our program after. They have somebody read their story and then talk about it. That's just a really fun way to get into the story and sometimes they sound better when they're read aloud. We don't often get a chance to talk about our stories that way in the MFA program because we're in a workshop setting where it's much more about, "How are we going to fix this?" But on the show, we're just talking about the story in a fun, no-stress sort of way. I think radio is really amenable to that.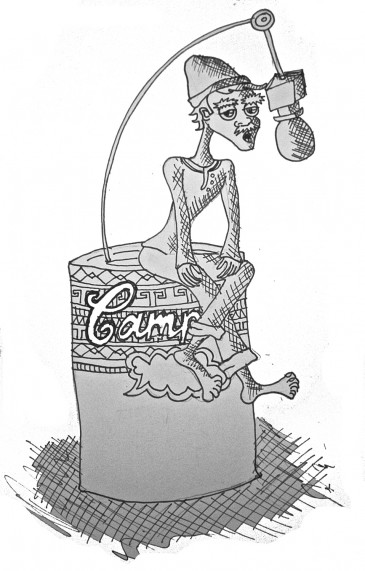 Higgins: I know part of the reason why I want to do it is because I like radio and I wanted to explore it. But there is very little, if any, funding for radio dramas or storytelling. For me, it was a reaction against that like, "This will happen… even if you don't fund me!"
Tretheway: We actually did one of Sarah's radio plays, which was a little tough at times because we were very new to it and we just did our sound effects like *bangs on table* "Someone walks in the room!"
Higgins: I think it got the point across.
Walsh: The next one we do will be better because we got skills now.
How would you describe the show to someone who is completely new to storytelling and creative writing?
Higgins: We invite creative writers onto the show, they read something they have written, and we chat about it. It's geared for people who are new to storytelling because we're talking about how they write their stuff, why they wrote that particular piece, and where they're going to take it.
Tretheway: So it's a really craft-based show but we try and be jokey and self-deprecating so that people will want to listen to us. It's just supposed to be a fun take on creative writing that happens around UBC campus.
What's your favourite story or moment from the show?
Walsh: When Nicole was on and read all of her Google searches. That was really funny!
Tretheway: One of my favourite moments from the show was from our very first episode. We were talking about words between different countries. We had an Irish guest so she taught us a bunch of Irish words that are like slang but not dirty slang. More cute slang, like "mankee." What does mankee mean again?
Walsh: I don't really remember but I assume it's describing something that's wet, rotty, or smelly.
Tretheway: Mankee is what you'd call a bathmat when it got really gross. Like "Aw, that bathmat's really mankee." That was one of my favourite ones. But oh gosh, I shouldn't say that… they're all good!
Higgins: I think my favourite moments in the show happen when we stop talking about the story and we just start riffing on writerly things.
Tretheway: That's where the good moments happen; when we set up some questions then we go off and just talk. I like the rapport the three of us have. We usually know the people we are interviewing really well so the best moments are totally unscripted.
If you're in the mood for great storytelling or just some great banter, then check out Alphabet Soup every other Wednesday at 11:30 a.m. on 101.9FM or citr.ca!