With that evening's communion being held at Fortune Sound Club by Lil B "The BasedGod" himself, it was one of those Tuesday nights you just didn't forget.
Kicking off the proceedings, local artist Dkay prodded the crowd with a few decent bangers. "Vancity Shit," a tribute to all things West Coast and a modest reminder of where it is we live, had me as close to remembering where I was on Canada's most plaintive national holiday. Following up with songs like "White Boy Wasted" and "Die Wit a 40," two dirtier tracks accompanied with some monotonous vocals, Dkay established the cinders for a show that would subsequently become a combustible commotion.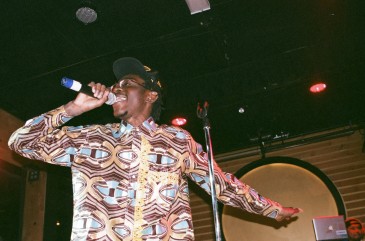 While ostensibly the more skilled of the two MCs that evening, Dkay will most likely be remembered as the indistinct individual on stage who made sure to alert us that The BasedGod was indeed coming on after him.
This, though, is less a critique than it is a comment on the bizarre suspense that preceded Lil B, as I'm sure it does at every one of his performances.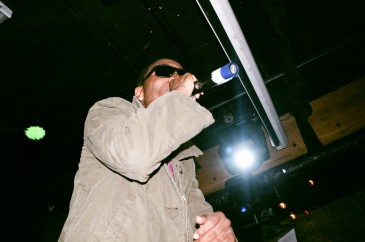 There's enough uncertain interpretation on Lil B to last anyone interested a life sentence and more, but what I can say with utmost certainty, is that his on-stage antics, as well as his banter, are keen reminders of our paradoxical perception of him as some sort of self-aware genius laying down some primeval tracks.
"You Can Fuck My Bitch," a haunting concession of Lil B's love life, was succeeded by the declaration that we should not only respect women, but men too, and that we should be throwing our hands in the air if we agreed. These were the kind of abnormal polarities that I should have expected coming in to such a show. Similarly, "Praying 4 a Brick," a track invested in explaining the philosophy of praying to oneself, was followed by the BasedGod offering libations to the audience in the form of what appeared to be vodka or white rum. He then went on to remind us that we should always drink responsibly.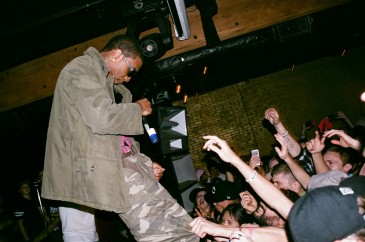 Despite Lil B's prolific discography, the artist fell back on some serious classics, such as "Like a Martian" and "Ellen Degeneres." Regardless of the content of these songs, Lil B fueled the crowd in ways unlike a rhyming stooge would, and performed with a sincerity that bordered on the manic. New hit, off the Ultimate Bitch mixtape, "No Black Person is Ugly," swooned the crowd into a sweaty slow dance, and pinpointed the exact whereabouts of some not-ugly people in the audience.
Ending the night with an absolute barnburner, "Wonton Soup," The BasedGod assembled a sandwich of fourteen women on stage, with him in the middle like some sort of dancing piece of meat.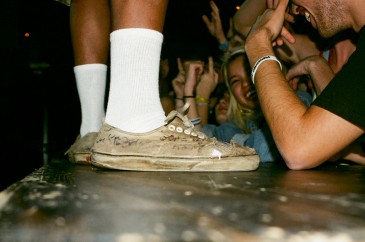 Regardless of your thoughts on Lil B, and the level of cognition he has over himself, the B is not only a substantial performer, but as friendly as a person I've ever seen on stage. Much like a dimwitted child trying their hardest to draw the attention of an adult, or the runt of any litter attempting to win your sympathies, it's hard to deny the endearing charm of Lil B.