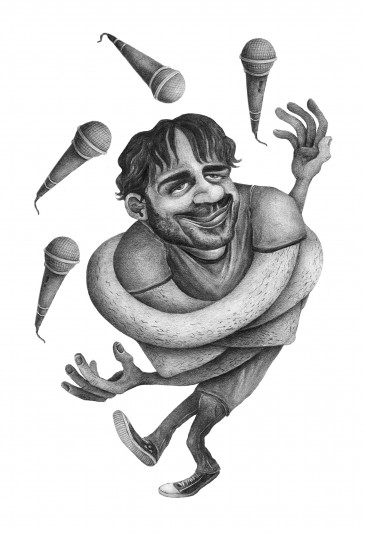 Adam Pateman is a genuinely fun guy. With his chummy beard and playful, almost muppet-like voice, he emits a  casual humour — like  you and him are cracking up doing bits late at a house party. That's part of what makes Pateman such an effective stand-up comedian. He's engaging and lively: a peppy, witty comic looking to pursue comedy wherever it takes him.
Like most comics, Pateman had an affinity for comedy starting at a young age. When not obsessing over Weird Al Yankovic, he would listen to Steve Martin records on repeat and even went as Groucho Marx for Halloween one year.
"In grade three, I acted out lines from the trailer for the movie Cool Runnings to a group of kids in a cul-de-sac near my friend's house, and I made them all laugh really hard," says Pateman. "I did an innocently borderline-racist impression of a Jamaican bobsledder and was instantly addicted to the reaction I got."
Pateman grew to love performance, with his first big foray onto the stage in grade 10. Along with a few older friends, Pateman wrote a sketch comedy play for the Vancouver Fringe Festival called "The Shabadoo Experiment." The show was a complex, surreal, absurdist production that threw limits out the door. For example, in the play Pateman "sang a love song about a centaur named Daria the Quadraped and there were two characters called 'The Dream Lions,' who were from a place called 'Bubblegum Hell,' which was an insane dream-world where a giant ogre would move people's apartments around like blocks of Jenga."
With that same theatre group, Pateman would go on to write and perform "Oliver Platt's Magic Spoon Orchestra," another sketch comedy play: only this time, weirder and longer. While Pateman attended the Douglas College Theatre Program from 2002 to 2005, he was always drawn to comedy first, but specifically stand-up comedy.
"I did my first [stand-up] set the summer after high school at the old Yuk Yuk's back when it was at the Plaza of Nations during a kind of comedy lull," says Pateman. "People weren't particularly interested in going to comedy clubs at the time I don't think, and the place looked more like a strip club than a place to see comedy. Instead of a light that flashes and tells you when your set is done, the host would tap a spoon against a railing backstage. Five out of the seven people in the audience were my friends, but one guy who ran a hip 'alternative' weekly show on Commercial Drive came down to see my set and started letting me do his show at a place called El Cocal."
Pateman soon became quite successful at stand-up comedy and continued to perform at Yuk Yuk's. Seven years after his start in August 2002, Pateman moved to New York to further pursue comedy, hosting a show that featured sets by Reggie Watts, Hannibal Buress, and regular Saturday Night Live writers. Pateman then moved to Los Angeles to pursue comedy but ultimately decided to return to Vancouver — though New York and Los Angeles both presented Pateman with very interesting experiences.
"I'm very fortunate that I started comedy in Vancouver because the crowds here are very smart and really make you work for the laughs," says Pateman. "This community fosters a lot of really great comics because of it, and the skills I learned here translated to New York very well because they too have a very similar sensibility. There's also just a never-ending list of things to do in New York, which I miss sometimes when it's 1 a.m. here and there's nowhere to go, including a bus to get me home. Los Angeles also has a very strong and smart comedy scene and it's another place that seems like a magnet for brilliant and talented comics. I just didn't like the weather there."
Lately, Pateman has been pursuing a palpable passion project. As a part of CBC's crowd-voted comedy show pitch program ComedyCoup, Pateman, Max Mitchell, and Brian Fukushima created the idea of Roll for Damage, a Dungeons and Dragons-inspired comedy series.
"It's a show about five people with totally different and hilarious reasons for why their lives are a mess and they all meet once a week to play a pencil-and-paper role-playing game as a distraction from it," says Pateman. "Their real-world problems bleed into the game and we use cool-looking indie-cartoon illustrations by co-creator Brian Fukushima overlaid on top of the  footage to show what's going on inside the imaginations of the characters. The show deliberately has no 'nerd characters,' just interesting people played by the best comedic performers we know."
As Pateman strides into more-scripted comedy, it will be interesting to see how his determined exuberance will translate onto the screen. I fully expect him to display the spirited vigour he presents on-stage in everything he does.
If you want to learn more about Roll For Damage, be sure to check out https://comedycoup.cbc.ca/roll-for-damage. You can also catch Pateman live on January 28 at The Lido when he hosts "Fresh Towels at the Lido."