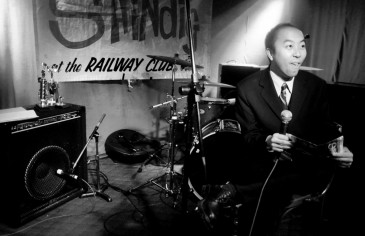 This September marked the 30th anniversary of Shindig, CiTR's annual battle of the bands. Over the span of four months, 27 bands compete for one of three grand prizes, including a sizable amount of professional studio time. As host for over a decade, Ben Lai is a veritable fount of Shindig trivia and recently sat down with Discorder to shed some light on the three-decade-old event.

Ben Lai! Yourself and Shindig?
The first time I actually hosted was unfortunately September 11, 2001… and given the context, the band that won was 3 Inches of Blood, unfortunate given the name. I mostly just hosted in 2001, while Katrina McGee did the organization. From 2002 onwards, I host, schedule, contact bands… the only thing I don't really have a part in is the sponsorship.
Can you give us your perspective on Shindig's origins?
I believe it started off at UBC's Pit Pub, a battle of the bands. [From the Pit to the Savoy to Railway]… I feel that's the order, but some of the past is so thick, people move around.
Some years there were way less bands. I believe it wasn't even called Shindig originally. They started calling it Shindig after '83. It happened once or twice before that.
For rules… five judges is a system I've maintained because the music is so diverse. Ideally, you want more than five but that makes it harder to have all judges with no ties to the bands.
Shindig has a history with — in a sense — large bands such as Japandroids, who didn't win.
The joke has always been that the band that wins never goes big. I don't buy that theory because it's hard. It's not just if you're good or not, there's so much chance in it.
What about regulars? 42 are an infamous Shindig duo.
42 played in 1998 and then got into heckling. Bryce Dunn hosted Shindig for four years before I did. So that was the peak of the heckling… Dunn might've gotten a bit irritated [with 42].
For regulars, Stuart Derdeyn writes for the Province and always seems to be in on Tuesdays. There are regulars throughout the years but it goes in cycles.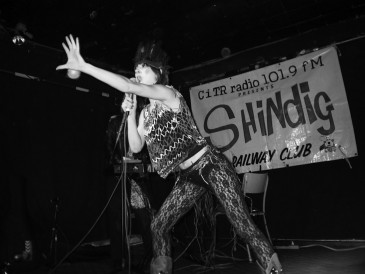 For you, is there an infamous Shindig Night?
Last year there were a lot of joke bands and we had Classic Rick. Their schtick was they were an '80s arena rock band. Each member ran on stage playing the same riff, then ran off playing the same riff. They won and next round they did a different thing. Classic Rick had died trying to make it over a gorge, so instead they found his long lost cousin, Classical Richard. All the same members came on but they were all wearing velvet and Victorian wigs.
It didn't go over as well?
It was amazing! After two songs they revealed it was a ruse, ripped off their clothing and underneath they were wearing the original costumes. They didn't win the semis because once you get to that point, people start thinking about which bands deserve studio time.
It's the 30-year anniversary and this year people who have competed could compete again?
I hoped more joke bands would return but maybe Classic Rick did it too well. Pineapple returned and we had a few return from Shindig 2012. Other than that, it's mostly individuals who have done Shindig in other bands.
Do you think Shindig is an accessible starting point for people not already entrenched in the music scene because it's at the Railway?
Well, it's a good spot. It's central, well-known, and it's been around for a long time. It's Vancouver. If we went to another venue who knows how long it'd be there.
How is the continuum of experience among bands?
It's totally all over the place. We have so many entries, like Deaf Chords — first show ever. We have bands that don't need a lot of help getting shows. It's good having suburbs bands at Shindig because they do need the help.
How are judges typically chosen?
I contact people who have played Shindig before: musicians, people who go to shows, CiTR people, journalists. Sometimes I'm hoping the bands get together with the judges, maybe play together, and have Shindig help build a community. If we could actually do Shindig without the competition, it would be great. Sometimes it just feels like a band showcase; it should be fun.
How long do you plan on hosting for?
Not that much longer… we'll see how it goes. My biggest gripe is that in all my years of hosting it, we haven't had one holiday that was scheduled on a Wednesday after Shindig. I want Shindig to be on a night where people don't have to work the next day. There's one of those coming up in two years, maybe I'll wait 'til then.