November's icy air got a heated blast from Coopersburg, Pennsylvania duo, Lea Cho and Russ Waterhouse (formerly of Queens, New York) collectively known as Blues Control. Clever/dreadful pun aside, the two made quite a ruckus with their discordant rumblings booming from their keys, samplers, sequencers, and (later in their set) some serious shredding on the axe. A talented but tight-lipped crew, instead of banter between songs the sounds of sluicing water resounded through the basement-like Biltmore. It was effective at first, but eventually all the dribbles and drips sent me scooting to the men's room urinal, but I digress.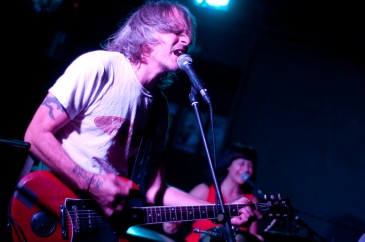 I must admit to utter astonishment when I discovered that Portland, Oregon-based indie rock instigators, Quasi, were rolling through town not just to support their recent magnificent double-album release, Mole City, but also to celebrate their 20th year as a band. Wasn't it only just a few years back that I saw this adept duo in a coveted opening spot for Built to Spill at the Starfish Room? Granted, that was probably some 16 or thereabouts years ago—back in the salad days of those buzzing Pacific Northwest bands such as the Halo Benders and Modest Mouse.
Apparent from the moment the schmaltzy-yet-sportive curtains split open on stage—revealing a beaming, silver-haired Sam Coomes on the keys and a joyous Janet Weiss on the skins—is that Quasi's clearly the same band, but that they've evolved sonically from their '90s post-grunge roots into an artier, more adventurous duo, one that's outlasted many of their peers.
Joined on stage by a choice selection of life-sized cardboard cutouts (including a gorilla, a Siberian tiger, Roy Rogers with a guitar, and Glinda, the Good Witch of the North from The Wizard of Oz), the twosome tore into an engaging and animated set. Classics from their extensive canon such as "Birds," "Seven Years Gone," "Sunshine Sounds," and "It's Raining" broke out with fire and force.
When not lurched over his keyboards or plunking his guitar with pluck, Coomes was gracious and grinning. Weiss, too, seemed especially excited, telling the room that we were the best dancers of the whole tour (though this did put extra pressure on yours truly to move out beyond my two dance move impediment). Well-known for her dynamo drumming in Sleater-Kinney, Stephen Malkmus and the Jicks, and also Wild Flag, Weiss seems like a reservoir of boundless intensity and depth. She's one of the best in the biz, without a doubt.
After a well-earned encore that included "Our Happiness is Guaranteed," the sweaty, perspiry pair bid another spirited goodbye, capping off a storied, and stupendous set. Twenty years into their career, Quasi remain as relevant, quick, and ready as ever.