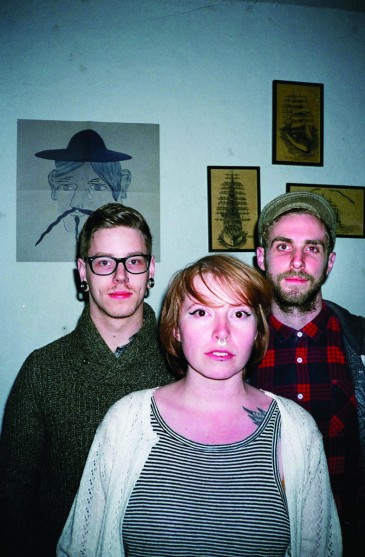 It's a chilly November night as I make my way to The Templeton in downtown to interview an up-and-coming band, Phantoms Again. While waiting for a booth at the vintage diner, I dig up a single Bandcamp track they released back in 2012 and a scribbled band description. Needless to say, I was curious to bridge the gap between the Phantoms Again from then and the band they've become. Between sharing pies, fries, and banging on the vintage jukebox, the band fills me in on their future plans.
Phantoms Again started out in 2010 as a duo, with Cali Travis providing lead vocals and Jensen Gifford on guitar/backing vocals. The idea came to the couple while they were travelling/hitchhiking through the maritime provinces earlier that same year. Casual jams evolved into songs, and by the time Gifford and Travis found their way to Vancouver, they had already agreed to form a band together. This past September, drummer Travis Lacroix joined to complete Phantom Again's sound. Like many indie startups, evolving into a band is an organic matter; collecting funding, playing gigs, and balancing other commitments is another ordeal.

"Originally we were called We Are Phantoms Again, but the name was too long and people never got it right," says Travis, who also came up with the name, using a line from one of her original poems. A lot more—sonically—has changed for Phantoms Again this year as they transition from a softer, whimsical sound to driving garage-rock. Influences are diverse but one thing is common; support for Canadian talent. Gifford names Quebec band Wolf Parade as a key influence to his music, while Travis cites Chad VanGaalen as hers. Moonface (featuring B.C. native Spencer Krug) and Cousins also tops the band's collective list.
What draws me to the band is the sensitivity they display for their audiences. The indie music scene in Vancouver is flourishing for adults, but for those under 19, there are very few shows available. Phantoms Again recently played an all-ages Halloween Show at Astorino's—definitely a treat for local underage music lovers. Gifford and Travis also co-founded a Vancouver artist/musician's network called Googly Eyes Collective, which allows musicians to jam (sometimes in each other's garages) without having to pay hefty fees to book venues.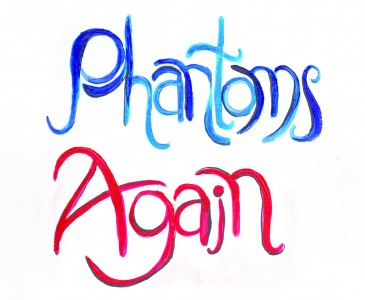 The band's newest seven-track EP, Half Dog, will be released digitally in December and as a vinyl in early 2014. Half Dog is fast-paced and catchy, yet still captures a nostalgic feel. Nonetheless, some of the band's unique ethereal, playful sound still resonates in the garage-rock record.
The band initially planned to book studio time for recording, but instead opted for a TEAC A-2340SX analog tape machine—an interesting alternative to going digital. This happy incident is accredited for the crackly, fuzzy lo-fi sound in all of the tracks on the EP.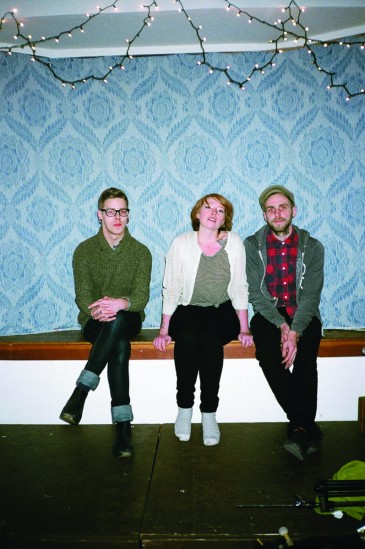 "We want our sound to be abrasive, but in a good way," Lacroix adds. The record, though abrasive at times, is still strikingly haunting and sentimental and is reminiscent of a long-ago teenage summer, upbeat but static, like old negatives from a film.
Recording for the EP began in July earlier this year at Googly Eyes Studio (a.k.a. Gifford and Travis' living room). The band recently finished putting the final touches on the record. In early November, Phantoms Again played for a full crowd at the Prophouse with Daisy Blue to fundraise for Half Dog's prospective vinyl release party ("We're pushing for February," Gifford encourages). With a new album to be released, the band also sees a full itinerary coming their way. The time and place for Half Dog's official digital release party is already set, while Phantoms Again are also headlining an upcoming show at the Media Club—all before the year's end. The band also plans to send the new EP to local record labels and to continue experimenting with new sounds.
With a new and improved sound and a third member to the ensemble, Phantoms Again is headed off to a great start. Expect to see some smashing shows full of pizza, dogs and crunchy slacker-rock coming your way.