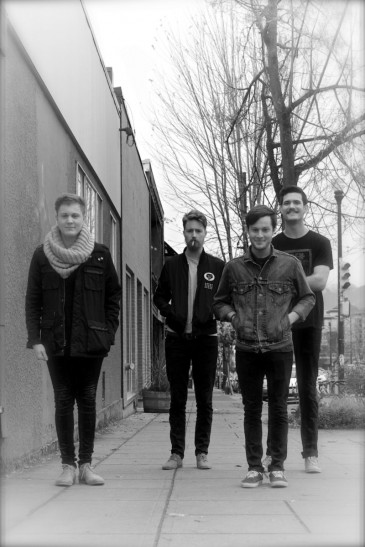 Nestled in the basement of Neptoon Records, I meet up with the members of Abbotsford-based rockers Little Wild for an interview. Between road shenanigans and the milestone events leading up to their debut album Victories, there's a lot to talk about—and for this band of storytellers, that's no problem.

Inspired by '90s garage acts like the White Stripes and the Hives, Little Wild are known for their upbeat, riff-heavy tracks and energetic live shows. Conga lines have also become a mainstay in their set, a trend that started with the band but has since grown beyond their control. Within Little Wild's lineup, the Keely Brothers Layton and Zack, share guitar duties, with the former also providing vocals. Josh Erickson is responsible for holding everything down with solid bass groove and drummer Jake Holmes shows range and talent switching from go-to rock backbeats to Latin standards perfectly suited for Little Wild's hodgepodge of gunslinger showdown singles.

The band came together in 2008 when Layton asked Erickson about starting a new group, after having weathered several high school bands together in the past. Kicking around with different members and rotating instruments, the band began to take shape under the moniker Princess Says, before switching to another former name, Rags to Radio. Layton took vocal duties, while Erickson experimented with bass to cover the low end. Younger brother Zack was enlisted on trombone and keys, before switching to a heavier guitar role—a switch that had a dramatic effect on the band's style.


"It added a whole new level to our sound." Erickson remarks. The band's previous outings had dabbled in swing-rock, but feeling the songs were dated, the inclusion of Zack's guitar lines added depth and life into their older catalogue. "When you add a second guitar [the songs], for a lack of a better word, sound more modern. It's more true to what we actually listen to."

Holmes was the final member to join, after the group juggled through a few previous drummers. Holmes' inclusion in 2010 finalized the band's current lineup and solidified their driven, climactic sound.
Since 2011, Little Wild have managed to tour across Western Canada, win an illustrious spot playing at POP Montreal, and perform a series of shows in LA that would result in them meeting their future producer. When listing Little Wild's recent string of successes, it's easy to write it off as a lucky streak. However, with five years of development under their belt, Little Wild have earned their following with every solid set and new release. The energy and conga lines didn't hurt either.

"We like to bring a show to people. We like to bring energy. And we like nothing more than to see people dancing and going crazy," Erickson remarks about their live shows.

Right from the start, Little Wild took an aggressive approach, agreeing to as many gigs as they could in the Lower Mainland before embarking on a Western Canada tour in 2011. Playing nine shows in almost as many days, the band made it all the way to Saskatchewan before returning with new experiences and countless road stories under their belt. They travelled with tourmates and fellow Abbotsfordians GSTS, growing their fan base and gaining experience that can only be earned on the road.

In 2012, at the suggestion of Aaron Levy for CIVL Radio in Abbotsford, the band entered a contest where the winners would be flown in all expenses paid to play at the POP Montreal Music Festival. Over 200 bands submitted entries, and after fan voting landed them in the top two, a panel of judges declared Little Wild—still playing under the moniker of Rags to Radio—the winners.

"They put us up in a hotel in Montreal, all expenses paid, we got passes for the festival, and they set us up with two gigs" says Erickson, recalling the experience fondly. It was in Montreal that the band ultimately decided to change their name.

"After a while of playing and doing bigger things, we had a little bit of amateur airplay and so it almost all became somewhat superficial. Rags to Radio had become what we were doing." says Holmes.
"We wanted a name that people could just take more seriously," adds Erickson.

Three months after the stint in Montreal, a fan invited Little Wild to play in a series of shows for Indie Music Cares in LA. The band played three shows, including one at the legendary Whiskey A Go-Go, and also made plans with Scott Coslett to record their debut album, Victories.

Released on November 26 via Neptoon Records (and with the support of store owner, Rob Frith), Victories was recorded over a two-week period, "In so many different kinds of places," Holmes remarks. "We recorded at the creative shop in Aldergrove. We did drums and bass there and a little bit of guitar." Other recording locations included a dojo that the Keely brothers attend, Neptoon Records, and Layton's own closet, which was used for vocal tracks. The closet is credited on the album as "The Cupboard."
"It was very guerilla-style." adds Layton.

The album boasts 11 tracks, offering a broad listening experience from the up tempo single "Steep," to the closing track, "Ride Off… Really Dramatic Like"—the band's take on a spaghetti western theme. For extra credit, listen closely to "Cockatiel" to hear Holmes play makeshift steel drums on a set of repurposed oil drums.

The band will soon embark on a tour of the United States in promotion of their new album, culminating in a coveted spot at SXSW 2014. Many victories still await Little Wild in the years to come, as they turn every live show into a new opportunity.