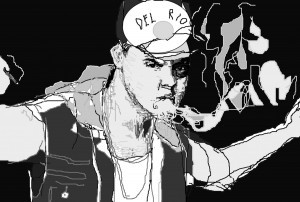 During the first rap battle I ever saw, Cody the Catch said these two lines: "He's a pathetic waste of skin with a troubled past of lies. He takes transit ride to bubble baths with guys."
Thanks to an organization called King of the Dot, people like Cody the Catch have a place to go.
King of the Dot (KOTD), the Toronto-based competitive league of rap battlers, works like this: two opponents face off, each with three rounds of pre-written, acapella verses of rap intended to verbally bitch slap the opponent into submission. The verses are made up of a combination of bars, personals, one-liners, and gimmicks. Bars are lines of poetry employing rhythm and rhyme, usually intended to big up the spitter; personals are personal disses generated from the opponents idiosyncrasies; one-liners are your basic jokes; and while gimmicks are less common, a dope rap battler can use them effectively and frequently. They're all tools employed by battle rappers to cut the other down.

I really enjoy watching rap battles, but I also really dislike hearing men yell the word "faggot" at each other. To any rap battler—and anyone in general—employing the word: using faggot even once as an insult is once too many. You think you're being clever but we see through you. Using the word in place of a "like" or "um," you try to buy time and use it to get an immediate crowd response. Say you're afraid you haven't gotten enough laughs or you're stumbling towards your next line; you slip a faggot in and buy yourself that cheap laugh or that cheap time. You have just used the word in fear. You relate your fear to homosexuals and you're now acting homophobically.
There are people who argue that rap battling is just words and has no greater consequences. Before you tell me about the "No rules" nature of rap battling, allow me to refer to a study from 1995 called "Children's Judgements about Psychological Harm in Social Context." In the study, "children were presented with a series of stories involving psychological harm (name-calling) in a game context." What the researchers found could easily be applied to the world of rap battling:
"Younger children were more likely to ignore intentions and consequences or the recipient's perspective and to focus on contextual features (e.g. game rules). Older children were more likely to base their evaluations on intentions, or both intentions and consequences, and to take into account the recipients perspective."
In regards to battle rapping, lesser rappers are like the younger children. You understand your actions based solely on the rules of the rap game with the inability to place them into the larger context, that being the world-at-large with its subsequent complexities.
The act of calling another rapper a homosexual reflects a gap in understanding between you and someone who is more enlightened sexually. Sexual preference does not exist purely in binary. You are out of touch with the more sexually progressive members of society and out of touch, it appears, with yourself.
I speculate that a lesser rap battler would employ this particular poetic device because they were brainwashed into believing a hypermasculine, hyper-heterosexual and mentally inflexible attitude was the only way to approach poetry.
There's a lot going on in the world of rap battling. As one of Canada's main entertainment industries, I would say it has a resounding effect on our society. While some rap battlers use the spotlight to sling slurs, other rappers are using the scene to hone their craft and spread a message. Give the right ones your attention, stop hating on celebrity rappers, and support your local rap scene today.
Peace.