Was Round Two of CiTR's Shindig semi-finals too close to call? Which is more important? Musicianship, stage presence, or both? What is luck, really? These are the questions that arose in its wake for me. It wasn't an upset, but all three acts were so good, it was hard to tell who would win.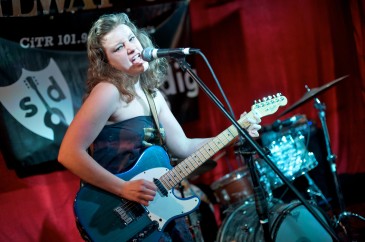 The night kicked off with Lunch Lady, who served up a lovin' spoonful of noise rock with a side of charisma. Maybe it was their lead singer and guitarist's snarling delivery counterbalanced by her bandmates' shambolic drumming and bass work, or maybe it was their sarcastic sense of humour and stage presence, but Lunch Lady were a beast of a band.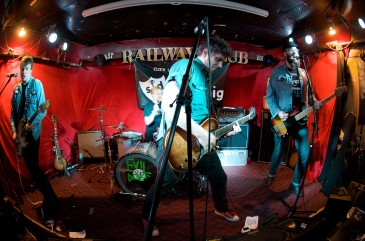 On the other hand, the second act, Greenback High, were machines. The pop-punkers churned out an extremely precise, loud set, complete with melodic riffs and energetic gang vocals. It went fast, like the groaners at the Jokes for Beer competition that followed their set. Considering their seasoned lineup—Rob "Beardo" Wright (bass), Matt L. Snakes (guitar), Joshy Atomic (guitar), and Floor Tom Jones (drums)—have played in Vicious Cycles, the Jolts, Von Zippers and D.O.A., this wasn't surprising at all.
Classic Rick played last, and started on a bit of a detour. Apparently, Classic Rick was crushed by a stack of amps during a Uriah Heep concert–and so his cousin, 25 times removed, took his place. Classical Richard, wine glass in hand and wearing a powdered wig, a cravat and a pair of knee socks, ascended the stage with his similarly dressed backing band. The crowd went wild with laughter to his "Opus 37 in B# Major" ("My name is Sir Richard/I work at the shit-yard/I shovel shit all day/And at night music I play") and a rendition of "Greensleeves." Then off came Classical Richard's moustache, revealing another moustache underneath, then his 18th-century getup. It was Classic Rick himself underneath the jacket and pantaloons, jean-clad with a Sharpied sleeveless tee: "RI/CK." Classical Richard's backing band did the same with their own outfits. Classic Rick and his Classic Rockers live!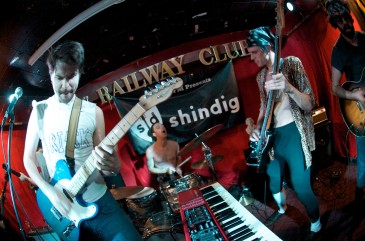 Classic Rick (and Classical Richard) were Sean Antrim and friends playing for laughs ("Opus 37 in B# Major" was made just after they won the first round of SHiNDiG.) The lineup included Chris Martell (Synthcake), Joseph Hirabayashi and Kevin Romain (SSRIs), Adrienne Labelle (Aunts & Uncles, Movieland, Slight Birching, Lost Lovers Brigade), and for this night, Julian Marrs (Marrs Pedals), who formed a solid musical backing to the comedic hijinks on stage and in the audience.
Ultimately, it was Greenback High who won.
As I said, it was close.