CiTR's 29th annual Shindig wrapped up on Tuesday, December 4th at the venerable Railway Club. After 12 weeks of fun times, mostly good bands and mostly bad jokes, it came down to this: three bands and one last chance to nail that perfect "Ben Lai's penis" joke (tip o' the hat to Colin).
By the final round, the results are pretty subjective. Even if a band squeaks out a victory in the first round, the semi-finals will sort them out. This year's final showcased three solid bands with very different styles. It's really the whims of the judges that puts these bands in order.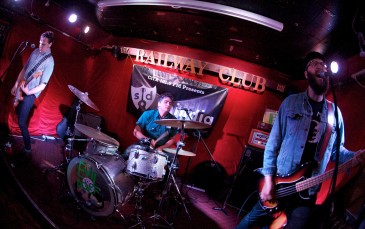 Greenback High kicked things off. They had had an eventful Shindig run, and a different line up in each round (get well soon JJ). For the finals, they were a three-piece, with each member taking a turn on lead vocals. Despite the existence of Don Henley, I have an abiding affection for singing drummers. And boy, did FloorTom Jones do the ol' drum-n-sing. It was fun to watch, as was the rest of their power-pop set. They rocked.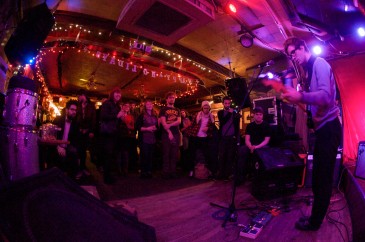 Praying for Greater Portland was up next. It was just one guy with a guitar, a loop pedal, and an iPod, but he made it work. He was the most subdued act of the night, conjuring—to my ear—a Phil Elverum-sy mood. Have to say, I hated the name of this band, but after rudely asking, "What's the deal?" mid-set, Mr. Greater Portland (his name is Clint) patiently explained its historical relevance and I made peace with it.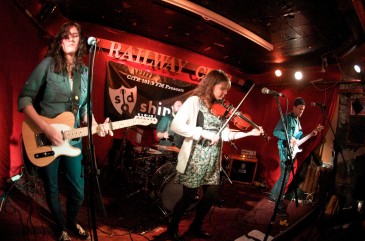 Teapot Hill closed things out on a high note. They drew the biggest crowds and looked to be having a lot of fun playing rollicking folk music. At this point, the night's revelry began to eclipse my critical ear, so let's leave it at that.
At the end of the night, MC Ben Lai got up, thanked the sponsors and told us it was really close. But there could be only one winner, and that winner was Praying for Greater Portland, with Greenback High in second. And so ended Shindig for another year. See you next September, old friend.