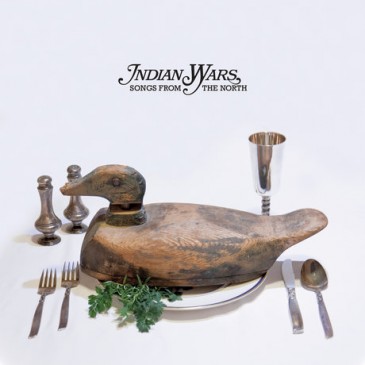 When the reverberations of Dave McMartin's guitar meet Brad Felotick's raspy vocals on "There And Back Again," you'd be right to assume Indian Wars are a genuine southern blues outfit. And as they've written plenty of songs about it, dress like it, and probably dream about it, the easygoing five-piece have adopted some pretty convincing personas.
Indian Wars' sophomore effort, Songs From The North, is an uncomplicated collection of fuzzed out country, woven with southern psychedelia and West Coast charm. These boys are able to play the part. Boldly channelling '80s Americana, Indian Wars waste no time conjuring their unique brand of carefree booze blues.

Felotick drives the album with his Springsteen swagger as Fraser With casually hammers out Everybody Knows This is Nowhere-era solos over a honky-tonk rhythm section. For these guys it's not how much beer is in your cup, but how long before it hits the floor and you head back for another.
"Denny," the catchy tale of a mystical burnout, opens with the plainly put "Young Denny lied down on the floor / He ate a tab, then he ate two more / Said goodbye to sanity, washed away his memories / Until he wasn't Denny anymore," before diving headlong into the reassuring chorus, "Dead man walking / Everything will be OK".
Meanwhile, on "Windshield Wiper Blues," John McMartin's lazy percussion does well to accentuate Felotick's distant drawl. Songs like "Florida" and "Who Needs A Girl Like You" that best harness the whiskey-fuelled energy only found in the south, with the latter being the album's definitive piece of freewheeling Americana. On it, Felotick tells the romantic tale of a train-riding hobo who leaves his uptown girl for a carefree life on the road, complemented by Craig Pettman's raucous harmonica and slide guitar solos.
Songs From The North is made for dancin' over a beer soaked barroom floor that clings to your feet from the stumbling audience. So prepare to drink up and get movin'!