If you were there then you can consider yourself very lucky. Unless you made the trip down to Seattle on December 15 for David Bazan's homecoming show, you won't be hearing the former Pedro the Lion front man offering up his 2002 album Control played in its entirety like this again.
Supporting act Stagnant Pools opened up with a set of moody syrup guitar rock that brought to mind a bit of Joy Division mope. The Bloomington, Indiana, two-piece consisting of brothers Doug and Bryan Enas were pretty good and I suppose a suiting opener for the deep cuts that Bazan let loose. A little more enthusiasm would have been nice, but at least the audience was sizable and attentive enough.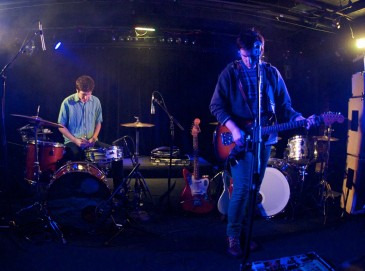 Playing his first full band show in Vancouver in three years, this gig couldn't have been a more bittersweet "reunion." It really did feel like a special night considering the now 10-year-old best-selling and heavy handed concept album about a man having an affair on his wife, who later kills him, is a favourite for many. Having it played from start to finish right in front of our faces was priceless.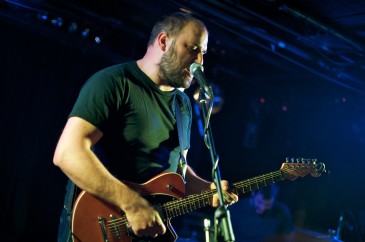 Looking healthy and relaxed, Bazan wasted little time making us wait for what we'd come to the Biltmore to witness. His band—of Andy Fitz on bass and Alex Westcoat on drums—was pristine, with all three musicians complementing and carrying each other to lofty heights. For the most part the band stuck with the program, splitting the album down the middle and offering up "Gas and Matches" from his Headphones days as well as solo material, a big crowd pleaser being "Cold Beer and Cigarettes," and selections from past Pedro albums snuggled in between to keep things interesting.
Then it was back to business as the last half of Control put a capper on the night. The crowd was respectful and friendly, giving huge praise for such deeply personal music laid in front of them, mouthing the words to nearly every song like a giant lip synching machine. Bazan remained chill throughout, breaking game face to answer audience questions and requests. Arrangements to songs were tweaked at times, but generally were given their proper treatment, with Bazan's voice reaching the roof with clarity and a supporting cast that really nailed it. Westcoat is one heck of a drummer and the solid smack of stick to cymbal and skin during tunes like "Second Best" and "Options" got the crowd's hair standing on end.
One of those experiences that can be chalked up to once-in-a-lifetime, indeed I felt lucky to be there and if a nearly full house has anything to say, you can be certain that they felt the same.