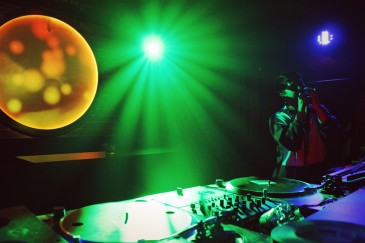 Seeing three young producers of warm and dreamy electronic music playing back to back was a stark contrast to the resident atmosphere of Fortune Sound Club's "Sup Fu?" Saturdays. I arrived in time to catch Noble Oak performing, nearly hidden behind the bulky DJ booth. The projected live camera helped me actually see the shy-looking man behind the moniker, Patrick Fiore, a musically productive UBC student. With just a laptop sitting on top of his keyboard, he played dreamy compositions, evoking nostalgia for fleeting summer moments and hazy sunsets at the beach with the Lions lurking in the background. Atop his swelling chords and laid-back rhythms, Fiore's reverb-driven vocals fit in with the ambience, despite being too vague to discern any lyrics most of the time. Standing out of the dreampop haze was "Fast Track," driven by a mellow drum and bass beat in the vein of LTJ Bukem, that showcased his skill as a keyboardist.

Next was Teen Daze behind the decks, intensely grooving to some choicy nu-disco and UK bass cuts. While it may have been thrown out countless times this year, Todd Terje's "Inspector Norse" still got a not quite club-going crowd moving to its almost comically quirky beat. Jamison's short but packed set was positively surprising, showing an outgoing and upbeat side to the tastes of a musician that is rooted in electronic music's more mellow and introspective valleys.
Trading off seamlessly with the DJ, Mikey Maramag, whom most know as Blackbird Blackbird, proceeded straight into bringing a heavily summery atmosphere back into the Fortune. With a setup similar to Noble Oak, the young San Francisco resident playfully manipulated his loops while loosely retaining a pop song structure. With most of his songs barely reaching the two-minute mark, his set took on a fast pace as he wove in and out through his hook-filled tracks. Crisp and sharp saw synths were in heavy use, contrasting with his ethereal vocals, especially on an unexpected cover of Modest Mouse's classic "Float On." In the later part of his set, Maramag presented more guitar-based tunes from his newest release, Boracay Planet. The result was an easy-going hybrid of jangly garage rock and electronic dreampop, which would perhaps been more effective if played with some actual guitars on stage. Regardless, Blackbird's talent lies in combining fragmented influences into catchy and uplifting tunes, doing just so in his closer, "All," beginning with a melancholic post-punk riff, and ending off on a different planet to the chime of cheerful steel drums.
As the cavalcade of dreampop came to an end, Fortune's DJs dropped Kanye's "Mercy," and this Saturday night finally came to a start.