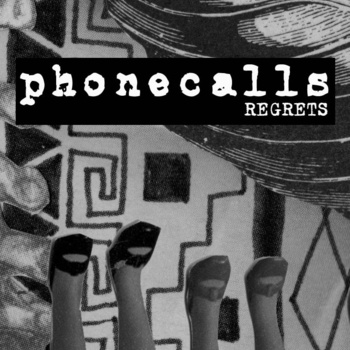 A guy went up to Phonecalls after one of their shows and said, "Phonecalls is the most underappreciated band in Vancouver." Having felt like their place in the "weird punk" scene in Vancouver just wasn't solid enough, this grungey pop-punk duo-turned-quartet bid adieu back in September, but they left us with this final release, Regrets.

Recorded and produced by Jesse Taylor of Twin Crystals, this record has a lo-fi sound that brings up images of the band playing in a dim garage clouded with smoke, smelling like teen spirit. Compared to their previous record Give It Back, Regrets is darker and more ominous due to its minor chord melodies. But it's also just as short of a record, with six songs clocking in at under two and a half minutes each.
In general, the backbone for most Phonecalls' songs is a driving, buzzy guitar line. The record starts off with "Muddy Water," a dirty number that rumbles forth mid tempo beneath Mel Zee's nonchalant vocals. Later, the title track builds forebodingly until it explodes with heavy thrusts of cymbal crashes and shouts.
It's a shame that this is the end of Phonecalls, but on a positive note, although the band is no more, its members are still contributing to the Vancouver music scene: bassist Ben Goldberg plays in the band Bad Fate, and vocalist Mel Zee and guitarist Adam Cathey run Junkyard, a monthly show and a bi-monthly zine release that happens the last Saturday of every month at Pat's Pub.