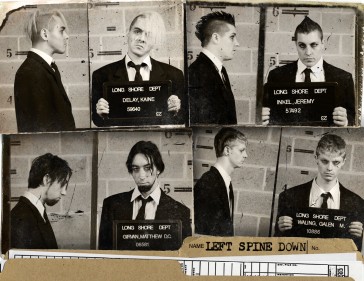 Left Spine Down have been slogging it out the last few years, building their fan base in both the industrial and punk worlds via their 2008 debut LP Fighting For Voltage, some remixes, and tours with the likes of SNFU, the Revolting Cocks and the Jim Rose Circus.
Next up is this month's West Coast jaunt with ohGr (a.k.a. Skinny Puppy's Nivek Ogre), which will find the local cyberpunks promoting their recently released sophomore album, Caution. Discorder caught up with frontman Kaine Delay and guitarist Matt Girvan over e-mail to chat about the trip, and they can't wait to share the stage with one of their idols.

"It is both an excitement and an honour. We opened for ohGr a couple of years back and remained in touch," Delay wrote. "We've been trying to make this tour a reality for quite some time." Girvan added: "It's another awesome step for us."
As per their previous trips, the guys are anticipating some weird and wild times, like when the band became part of Jim Rose's sideshow in 2009, acting as human dartboards. Delay explained that it "went downhill from there." Speaking of circuses, one of the highlights of a trip with 16volt and Chemlab had them kicking an inebriated Andy Dick off the tour bus in Hollywood. The video has made the rounds on YouTube.
Throughout it all, Left Spine Down were writing and reworking Caution, which Delay describes as "an album about deception and dominance, corruption and confrontation, malice and murder." Helping the evolution along was producer Dave "Rave" Ogilvie. "Dave was really hands-on. He also brought in a team of great engineers to contribute," the singer explained.
"X-Ray," the first single from Caution, is a modern rock anthem blending catchy synths with industrial aggression. Delay describes the accompanying video, directed by Troy Sobotka, as "an interesting tale of a female spectre-type figure who is determined to seduce and destroy us, while we as a band are completely unaware (or ambivalent) of her presence until it's too late. Pretty romantic, if you think about it."
Though they're currently on the road, the band also has grand plans to tour the rest of North America next year, with Delay adding: "We also have a second helping for the West Coast in the works right now."
Left Spine Down plays at the Rickshaw Theatre on December 4.