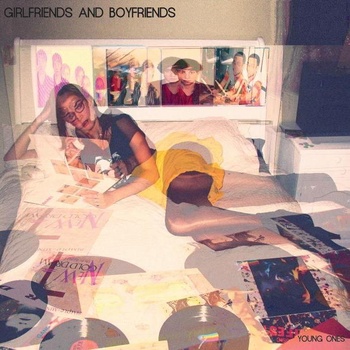 Vancouver post-punks Girlfriends & Boyfriends' new seven-inch hit me with an eerie teenage nostalgia. Distant memories of sitting in my parent's living room listening to Bloc Party and the Stills found their way into my mind, particularly with the somewhat Kele Okereke-like vocals on "Young Ones."

"Cobra Vs. Snake," with its quick, upbeat sound and the xylophone-like up and down of distorted key ranges, made me feel a little like I was in an angsty video game (it reminded me a lot of what Mario's nightmares must sound like).
I would say that the mixing of post-punk with new wave is praiseworthy as a fun and danceable creation, but that the timing just isn't right. The echoing vocals on "Hard Violence" seem like a juvenile artistic tactic, while the speedy electric beats sound like they should be accompanied by coloured strobe lights. As bold assertions go, mine is that Girlfriends & Boyfriends' attempt to reinvent 2005 pop by adding electro-synth elements just isn't that good.