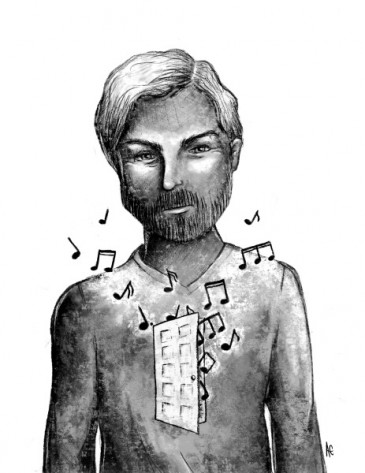 Since 2005 OK Vancouver OK, otherwise known as Jeff Johnson, has released four albums, each one with songs as consistently engaging, entertaining, surprising and moving as the last. From the playful melodica driven collaboration with Chris-a-Riffic, "Love's So Great," to the simultaneously dramatic but pretty piano of "This Saint Jeffrey," to the delicate, shimmering acoustic guitar of "My Favourite Everytime," Johnson exhibits a kaleidoscopic depth of feeling and sound that shares similarities with, but is not limited to, the likes of Phil Elverum, Bill Callahan or Tim Kinsella.
While his recorded output showcases his ability to take the listener on an immersive sonic expedition, Johnson's live performances offer a very different experience.
"I feel like I'm a receptor of energies. Every time I play I'm always conscious of what's going on around me, which has an effect on what I'm doing. I want to try to present something worth listening to, something real. A lot of the time I'm ad-libbing or experimenting with songs, changing songs in the moment because I feel like it," Johnson explained.
As well as being a talented multi-instrumentalist, Johnson possesses a very powerful voice that conveys a tremendous weight of emotion. When he's singing at full volume and his vocal chords seem to be on the brink of collapse—the effect is both disarming and poignant.
"For me [singing is] a way to vent and get these feelings out. Maybe I'll choose to play a song because I want to remember somebody or I want to remember a feeling. I want to do the best I can to perform these songs how I felt when I originally wrote them," Johnson said.
OK Vancouver OK's latest album, I Feel Nice/Houses, will be released sometime between now and February. "It'll be at the right time," Johnson assured.
Among the highlights of the album is "Jeff Tree," a song about reincarnation with a simple two chord acoustic strum and a heart-breakingly exquisite melody sung with a tender dexterity. Another understated arrangement is used to great effect on the hypnotic, reverb heavy "Life's A Beach," which epitomizes one of the defining characteristics of OK Vancouver OK—the convergence of tragic beauty and uncontained joy. In contrast, the clicks, booms and whirrs of "I Feel Nice" are jarring and harsh with Johnson making a cheap keyboard sound huge and enveloping. The result is like being underwater—unnerving yet liberating.
His last album, I Get So Drunk About Songs About Love, was released in 2007. So how does he feel about the long gap between releases? "It feels bad but it had to be that way," Johnson explained. "The circumstances of my life had led me to travelling and exploring and living in Europe with no money for months in the middle of winter, which led me to realise 'Oh shit! How am I going to get home? I've got to set myself up a tour and make some money,' and I did. And the most incredible things happened along that journey."
Considering the remarkable quality of the music, it is odd that OK Vancouver OK is still relatively unknown and indeed, unsigned. It isn't something that Johnson has ever pursued, and although he hasn't formally been approached by a record label, reps have shown interest at his performances, asking him to send them demos. "If I had a weird feeling about it then I wouldn't even bother," Johnson said.
"I don't want to record for a label, I like to do it myself," he elaborated. "It's a really hard one for me because on one hand I'd like to be able to perform in front of more people, but on the other hand I'm scared of that because along with all the good, there's going to be just as much bad. I have to be ready for that to happen. Maybe I don't want that, I'm happy right now. If I had a huge stage and thousands of people, what would I even do with that? How am I supposed to source how I feel and the energy of the room?"
In addition to the release of his new album, Johnson is also planning a musical. "I got really excited about that, but I've learned that there are so many more things that I need to do before I can make it as great as I want it to be," he said. "It might take me 20 years, but it is something worth doing. [The musical] is inspired by a friend of mine [Patrick Geraghty of Role Mach.] … It's gonna be big. It's going to have a huge volcano in it and it's gonna be really pretty. There are no words, no singing, just music and I have in my mind that there will be over a hundred people in the cast."
It would be easy to be sceptical that such an elaborate and somewhat bewildering plan could ever be made a reality. However, when it comes from the vivid imagination that fuels OK Vancouver OK, it might just be possible. It might just be absolutely awesome.
"There's an idea that you have, that I have, to live" goes a line in the song "Life's A Beach." When asked, Johnson elaborated on his lyrics, "I feel like everyone knows what I'm talking about in some kind of way and sometimes it's so difficult for me to explain in words. But it's this idea to feel like a child or to feel free and to feel like you're being loved. I hope that everyone has felt that—to live and to feel really alive, to not have to go home because work tomorrow says so. If you're having a good time, then have a really good time and just be happy that you are happy right then, in the moment, because that's all there is."
Like many songwriters before him, Johnson is simply attempting to make sense of the world, share his ideologies and articulate his thoughts through song. On paper, it isn't immediately clear what he means but, when heard in the context of OK Vancouver OK, somehow it all makes sense.