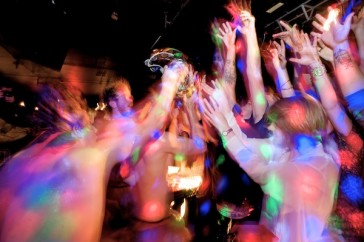 I arrived at the Cobalt at 9:30 thinking I would be late; however the opener JDH did not start until 10:30. JDH is the moniker of Jonny Dylan Hughes, a Vancouver based electronic singer/songwriter. He plays intimate electronic pop. His performance was captivating as he stood and soulfully sang his heartbroken songs with every pained expression written on his face. He contrasted this with a sense of humour and introduced himself as the recording artist from Brooklyn, Small Black. His set ended by inviting the crowd to sing to "We're Going To Make It."
Next was Watermelon. A four piece band made up of young men and women who looked like they might have just gotten out of a wintertime class. Their music was like an invitation to go party on a sunny day. Their laid back songs were full of classic guitar riffs and bumping bass lines which left a lot of room for good noodling for the lead guitarist. They got people swaying to and fro and I was reminded of footage from the Woodstock Festival! Hooray for Hippies!
As soon as Watermelon was done Gobble Gobble began to assemble below the stage. Three of their performers were set up below the stage, while Cecil Frena, the band's singer stood on stage. All of their equipment was draped in light cable and adorned with little what-nots that looked like Christmas ornaments.
Gobble Gobble then appeared as African monkey tribesman dancing from the backstage area. They had no shirts and were wearing masks, that or a hockey helmet (for protection of course) except for Frena who looked like the Bumblebee from the "No Rain" video. A celebration full of high fives and exaltation was about to begin. One Gobbler drumed on a very vertical drum set, another laid on effects and the another played like the hype man, jumping around and dancing. The music was highly charged electropop filled with stuttering effects with Frena pumping out the songs and the three others providing accompaniment. Loops, samples and sounds coalesced to create a kiddie, playtime dance party, that when perfected was pure energy and did not fail to inspire. A peaceful intro of guitar got pummelled by waves of white noise on "Lawn Knives." For the last song Frena got the crowd singing to "Eat Sun, Son."
For the encore they did some covers and drew on visual and physical stimulation. During a sped up and warped version of "Where is My Mind?" by the Pixies, they threw a blue tarp over the audience creating the feeling of being under the ocean. This put an exclamation point on a night that was already beyond my expectations. Gobble Gobble puts together a high energy show which is truly original and a lot of fun.