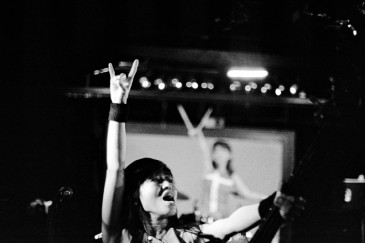 What an amazing show. Vancouver's finest opened for Japan's finest as our own Apollo Ghosts started the show off. Fresh from the release of their Forgotten Triangle EP on vinyl (only 25 copies!), the band played a vibrant set to a crowd that was not quite ready to move their bodies. The Ghosts' rock-solid songs and singer Adrian Teacher's charisma definitely won applause, though. Teacher aptly dedicated audience favourite "Little Yokohama" to Shonen Knife, and also introduced some new material. As usual, call-and-response choruses were in effect with the Ghosts, guaranteeing that a good time was had by early arrivals.
Next were the good-feeling rhythms of the Strange Magic, with a sound that was quintessentially Vancouver. The band's Mint Records-ready rock was joyfully playful, especially on the raucous "May You Live in Interesting Times." The sextet would be well advised to place Kayoko Takahashi's vocals at the forefront, as this is where the band truly shines. The Strange Magic seem to have a knack for opening for legendary bands (Os Mutantes already and the Pointed Sticks in December), and this night was no exception.
Finally came everyone's favourite "Super-Cult Punk-Pop Band," Shonen Knife. Knife collectors young and old erupted when the curtains were drawn, and they were treated to a stunningly energetic set spanning an hour. The band's current line up (original guitarist Naoko Yamano, drummer Etsuko Nakanishi and new bassist Ritsuko Taneda) proved more than capable of handling material from the group's near 30 year history. Newer songs like "Super Group" (off of the new album of the same name) and "Giant Kitty" felt right in place alongside classics like "Banana Chips" and "Twist Barbie." Shonen Knife brought a powerful rock sensibility to such impossibly cute and fun songs, ensuring every single body in the building was moving. Kurt Cobain once said that seeing Shonen Knife live transformed him into a hysterical nine-year old girl at a Beatles concert, and that's exactly what happened to the crowd this night. After the show, the band signed autographs at the merch stand, including a copy of their new CD for this writer; he was most definitely grateful for the experience.