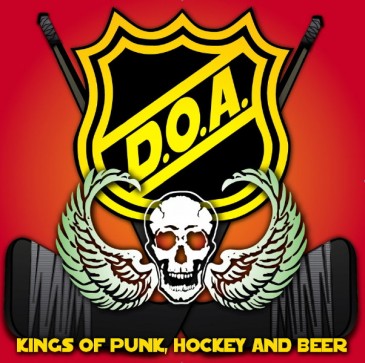 Joey "Shithead" Keithley just might be the hardest working man in punk rock. For 30 years he has tirelessly fronted the legendary Vancouver punk group D.O.A., pumping out brain-splitting albums and delivering unstoppable live shows. A tribute to Canada's three most beloved pastimes, Kings of Punk, Hockey and Beer marks the 24th album from the hardcore originators. It's a compilation of 13 punk rock tracks spanning their long and memorable history. The song credits in the liner notes are made to read like hockey commentary, as you scroll through the band's ever changing roster, with Shithead always present.
Kings tracks weave through the history of the Vancouver street punk scene with anthems like "Donnybrook," "Beer Liberation Army" and hardcore classics like "Deadmen Tell No Tales." There are a few previously unreleased goodies here too, including an appropriate cover of Stompin' Tom Connor's "The Hockey Song" and a rewrite of professional wrestling legend "Classy" Freddie Blassie's "Pencil Neck Geek." Finally, the album rounds off with another D.O.A. classic, their 1987 cover of BTO's "Taking Care of Business."
In the end, this compilation (along with D.O.A's feats on stage and on the ice as the D.O.A. Murder Squad) proves the thesis contained in the title, and it does it well. In the end, the album is essentially a well-packaged mix tape, saving you the work from making a punk party tape yourself.
D.O.A. covering Taking Care of Business
Sudden Death Records