Grief has a way of unraveling us. For "Vancouver"-based singer/songwriter Dust Cwaine, it has laid their soul bare; uncensored by assumptions about who they are and what they are meant to provide the world. The aftermath? A profound spiritual, emotional and artistic transformation, and a whole lot of crying in the sound booth.
As I set up my laptop in my childhood bedroom, readying myself to chat with Cwaine, three time zones away, I had some expectations. I'd harvested the internet for everything about them, and was eager to see the image of those infamous blue eyebrows animated in real-time.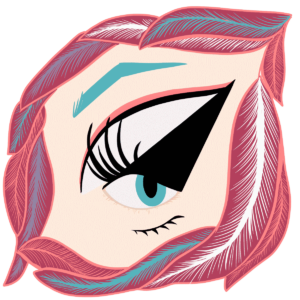 What followed was a conversation about life, grief, identity, storytelling, metaphor, and a revelation that undid much of what I thought I knew about them.
Over the past five years, Cwaine has made a name for themselves in the local drag community, creating and hosting numerous drag shows, drag musicals and even co-creating and co-hosting Yuk Yuk's only all-drag comedy show. When an intense period of grief and self-reflection befell them this past year, the desire to step away from drag emerged and they struggled to make sense of it — to imagine a way forward.
"I'm a very soulful person," they expressed, "and there's something about drag that is silly and fun, and helped me access a part of myself that is quite fearless, but it didn't bring in the thoughtful side."
As a non-binary, aromantic, multi-disciplinary artist, Cwaine exudes transcendence. Even sitting makeup-free in a plain black t-shirt beside the Shrek 2 poster in their living room, their presence is abundant. "I am not a person who is short on confidence. I'm also not a person who is short on a little bit of arrogance," they declared earnestly. 
While this commanding quality, ignited by drag, is upheld fondly, they yearn now to reach behind that fierce exterior — to begin drawing from the well of their deeply nuanced human experience. "I want to capture emotions," they said, "and drag wasn't allowing me, as a human, to connect with people and with art in a way that my soul wanted to."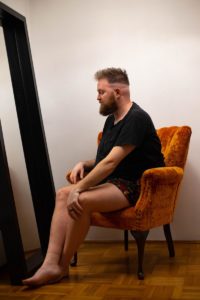 In drag, Cwaine experienced the strongest emotional fulfillment through singing live. Music is a big part of drag, but artists usually lip-sync to already-iconic hits. When original music is produced, it is generally club-centric, and sprinkled with clichés. Though they recognize the power and punch of this genre, what Cwaine was interested in creating was far outside these descriptors. 
Their path away from drag became clear once they embraced the unbounded potential of artistic expression — that no aspect of drag was unreachable from elsewhere. "I can let [drag] go, but I don't have to let go of the things that I loved about it," they professed, "I don't have to let go of community, I don't have to let go of performing — I can still have those things in my life."
Their love of singing has since evolved into a passion for songwriting, and they are currently working on their first studio-album with producer Josh Eastman of Helm Studios — a non-profit dedicated to uplifting marginalized voices. 
Though Cwaine feels confident in their artistic redirection, this transition has been anything but smooth. "Going into the booth for the first time felt like somebody hit me in the knees with a sledgehammer," they confessed, "I cried most of that day. I started questioning whether I wanted to continue to move forward."
Like any artist (and human being) actively pursuing growth, this discomfort became their site of salvation; "Okay," they thought, "this is a process that is going to challenge me in a way that I think I'm ready for. That I need to do." 
After a brief stint with a hyper-pop sound akin to the drag music they were used to hearing, they scrapped everything they felt was expected of them and tapped into the music that has moved them through life. Underway is a body of lyrically-rich, 90s pop-rock inspired music that just gets it.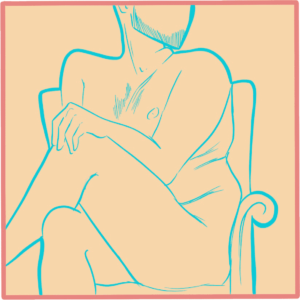 "That's one of the beautiful things about music," Cwaine expressed, "lyrics: they mean something different for me than what they mean to you." Referencing artists like Phoebe Bridgers and Lorde, they gushed about the kind of storytelling that is "broad yet specific" — that expresses "a specific memory or a specific experience" in a way that is relatable, without becoming cliché. 
Writing with this aim, Cwaine uncovered a profound love for metaphors — namely, their ability, when one is posed just right, to crumble our emotional walls, and nurture courage in these moments of vulnerability. "What I love about a metaphor is that it reaches into someone's soul and it finds something in them that's a secret and twists it just a little bit," they said. It's like finding the sorest part of the muscle and just digging — we are bound to come undone.
And when a metaphor hits right as the piano does? It might just change your life.
"INNUENDO" is the first and only track released off Cwaine's upcoming album thus far. Musically, it is an ode to Matchbox 20 — a soul-twister of Cwaine's youth. Lyrically, it is reflective and earnest. "INNUENDO is a starting place for me," they said, "the vocals are very simple…there's no depth in the production. It's just a straight pop-rock song."
As they've continued to work on the album, Cwaine has embraced self-intimacy as the driving force of the project. More than anything, the album is a "time capsule," said Cwaine; a way of both processing and preserving the transformations they are currently undergoing.
"Music helps us transition through transformations in our life," they said, "in the transition that I'm going through now, I'm the soundtrack for myself."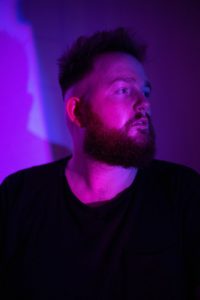 I was bestowed two demos — one tender, one spirited; both uniquely vulnerable. Of the tender, Cwaine revealed: "I was so emotional in the booth in such a good way… A lot of it's really, really raw." Both tracks are rich in metaphor, play around with form, and establish Cwaine as not only a clever and daring songwriter, but a powerfully dynamic artist. 
Alongside creating their own music, Cwaine will continue using their skills as a producer of drag shows to produce shows for local, independent artists. They recognize the many hoops "up-and-coming" artists are made to jump through (often adorning large price tags) and want to provide opportunities for such artists to perform live, and get paid to do so. I was assured they will perform periodically in these spaces as well.
I hadn't realized my room had gone dark until I closed my laptop and was enveloped in it. Darkness has a habit of encroaching this way; subtle until devouring. Cwaine is no stranger to this phenomenon, but so too are they acquainted with the chain-breaking resurrection made possible by periods of darkness. For, when we can no longer see anything to grasp on to, we must reach inward. From here, honest expression is made possible. 
Their album is expected in the spring.