Twin Rains is the Toronto-based dream pop duo Christine Stoesser and Jay Merrow. Though currently East Coast, they have heavy roots in the West, having formed Twin Rains in Vancouver in 2012 from the ashes of their previous project, Make Me Young. Last fall they self-released Automatic Hand, and have shared tour dates with Secret Sign, another Toronto-based pop group. Discorder got the opportunity to catch up with the band, and debut a Secret Sign remix of Twin Rain's "Pons" (below).
*
*
*
Discorder: I see you had some show dates with Secret Sign. Is that a pre-existing connection, or did you bond by playing together? 
Christine: Both! I am originally from Sarnia, ON, and so are all the members of Secret Sign (Danny Alexander, Phil Baljeu and Kaila Moon). Jay and I used to play in a band called Make Me Young which toured with Danny's old band, A Huron Union, years ago. 
Twin Rains and Secret Sign have played several out-of-town shows together, but we bonded when we all traveled to Peterborough crammed into a compact rental car. We were worried we might not be able to fit in all the gear but that's a great thing about synth pop: it all fit in the trunk and we were the tiniest mobile two-band music party I've ever been part of. 
As bands, our sounds are different, but they are complementary and we are mutual fans of each other. 
Discorder: Twin Rains is a duo, and I imagine your approach to collaboration is pretty intimate; What's it like having your work interpreted by another artist? 
Christine: We love being remixed! Jay and I feel honoured hearing another artist's interpretation of Pons and grateful to Secret Sign for putting time (though it didn't take Phil long at all once he had the stems) and energy and most importantly, their vision forward to distill something new out of the song's essence. 
Personally, I really enjoy how menacing it sounds! Not production choices Twin Rains would typically make, but that makes it more interesting for me to listen to. I listen to the remix more often than the original.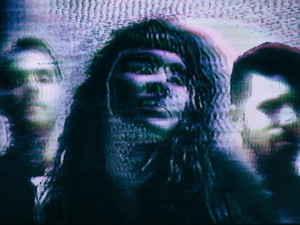 Jay: Production is just style, and the substance of the song is beyond production, beyond style. The core of a song is always there.
Discorder: You are TO-based, but obviously Vancouver is a large part of your narrative as a band. Any plans to come back west soon? Are you touring this summer or playing any festivals?
Christine: We've applied to several festivals out west this summer. My fingers are crossed so hard they might break! We want to shout out Vancouver mastering studio, CPS Mastering, who we can't recommend highly enough! We also have some new songs, and they still sound like 'west coast dance music', the Twin Rains style we have Vancouver to thank for. Hopefully we'll be able to convince Secret Sign to come along with us: they have an EP coming out any time now and it's sounding excellent. 
x
You can hear Twin Rain's debut album Automatic Hand on their website. Check out Secret Signs on Bandcamp for more of their music, or follow them on Facebook.
Header photo of Twin Rain by Mani Khaira