I heard about Pale Red for the first time last year. They had just played Shindig and everyone I met was raving about over them. This happened just around the time I was getting into the CiTR and Discorder community, and even though this is based on almost nothing, I developed a sense of nostalgia for Pale Red. We have been ships passing in the night for almost a year now — I always plan on going to their shows but never make it, or arrive right after their set, and this streak persists even for this article. All the communication seemed to happen just an hour too late or a hangover too soon. We end up exchanging questions and answers via email, which isn't perfect, but it allows Portia, Myles, and Charlotte to respond individually. Through their responses, I see their personalities and similarities.
Pale Red is a local art-pop trio made up of Portia Boehm, Myles Black, and Charlotte Coleman. They had known each other since high school and have played together in various combinations before establishing Pale Red in 2014. The longevity of their bond is uplifting. Charlotte describes their first full-length album, Soft Opening "as a culmination of that history." Myles gushes, "Pale Red is my favourite thing, it's such a beautiful artistic relationship. Sometimes I even think of it as a model of what human organizations can look like, how people can figure out ways to express themselves without steamrolling others."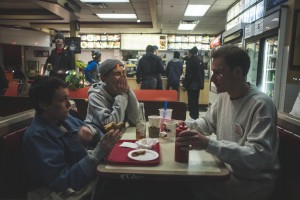 Until the release of Soft Opening this month, their only recordings were EPs made on their phones. In reality, the album has been recorded for over a year. Myles and Portia chalk the delayed release up to the project refusing to be rushed. Portia explains, "Things just take as long as they take. We really didn't have a desire to hold on to it, so much as life got in the way of the process of mixing, mastering, duplicating at pretty much every turn." The value of this extended production period was not lost on them. Being able to revisit and reevaluate the material allowed for more thoughtful and satisfying songs. This is not the band's usual approach. Their previous EPs were released almost immediately on Bandcamp.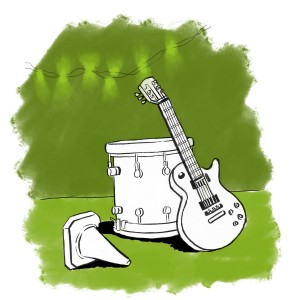 I am reminded of an episode of the Revisionist History podcast where Malcolm Gladwell categorizes artists as Picassos or Cézannes, the difference being whether they produce completed works or projects that are always being worked on and perfected. Judging by Pale Red's earlier, Picasso-esque releases, this intentional and simmering Cézanne — Soft Opening promises to be distinct. Charlotte describes the album as "for the most part, real fun and sloppy, but also not sloppy."
This sloppiness, and lack thereof, played a big role in motivating Soft Opening. All three members cite higher quality recording as a major goal for the album. Myles explains the contrast between the professionalism of the process and the informality of the recording: "I wanted to make an album that really sounds like us playing an intimate, live set. Close to the mic, high energy, rough around the edges. Rehearsed, but with room to play and improvise." An imperfect combination of Picasso and Cézanne.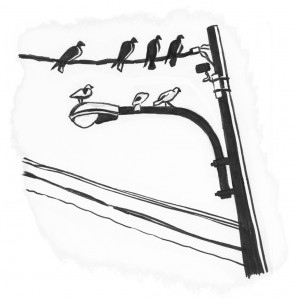 Pale Red's last Bandcamp release, un-titled ee-pee, hinted at an imminent "no nonsense" album. Upon reflection, Portia, Myles, and Charlotte all disagree with that goal. Portia laughs it off saying, "less nonsense, maybe, but I don't know that you can completely eradicate it from anything I am involved with." What Charlotte describes as "minimal nonsense" is reflected in the Soft Opening's creative process. For Myles, songwriting "focuses attention on enduring emotional concepts and in a way counteracts anxiety." Myles wrote most of what he calls the album's "core songs," which Charlotte and Portia then wrote onto, which developed the Pale Red style. "Songs are rarely static because we are people," explains Portia, "so also rarely static." While this has been Pale Red's process for years, Soft Opening is unique in its deliberateness. The songs were allowed to morph and evolve through additional practice and live performances. Despite the more professional set up — recording in their friend Evan Matthiessen's home studio as opposed to their tiny home jam room — it was "really casual and fun," and still let some nonsense seep into the Soft Opening.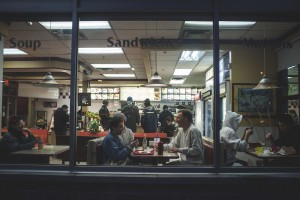 When asked about their band name, Myles explains, "colours are abstract and emotional, very open conceptually. We all wanted a name that was very open to interpretation." Portia elaborates, "Pale Red — to my mind — is sort of an imaginary colour, an oxymoron almost? I like the unrepresentability of that," speaking to an intangible materiality present in a lot of the music.
That's what makes it seem kind of fitting that we never actually meet in person. I am able to sustain this game of engaging with a band that I've never really experienced. It feels like any more intimate interaction would be the end of an era. Soft Opening as an album is the beginning of a new era for Pale Red, and maybe the beginning of a mostly polished but still messy era for me and the band.
X
To hear Pale Red, visit paleredband.bandcamp.com for previous releases, and keep an eye out for the Soft Opening release party February 17 at Ged Rate.