By the time Ty Segall walked on stage with his most recent backing group, The Muggers, on the night of his sold out Vancouver show, the Vogue had been packed for nearly two hours in anticipation.
Openers CFM (featuring long-time Segall cohort Charles Moothart) played a decent set of simple, rowdy rockers. Though the band far from re-invented the wheel musically, their familiar sound was received positively by the increasingly dense crowd.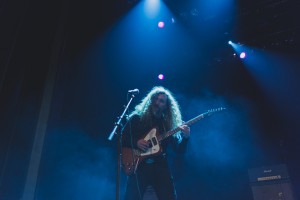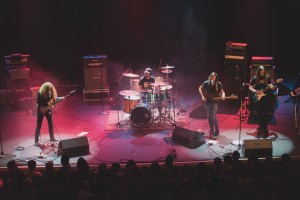 Segall took the stage wearing the same creepy baby mask that adorns the cover of his most recent album Emotional Mugger before playing most of that album's songs over the first half of his band's tight, 90 minute set. Conspicuously absent even during older songs, were Segall's trademark guitar heroics, as Segall — a notorious feedback hound — instead tried his hand at playing Traditional Rock Frontperson, sans axe, for the entire show.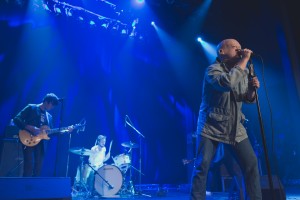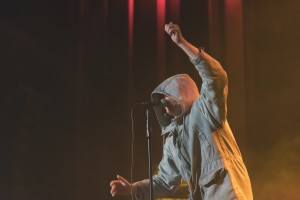 His five-piece band ably handled all aural duties, noisy and otherwise. The hundreds of teenage fans at the front of the stage didn't seem to mind Segall the Singer a bit, erupting every time he pointed at them or stuck his mic into the audience. Such appeals were likely a bit obvious to jaded concert vets looking for a new experience.
Clearly, though, Segall just wasn't catering to older folks or long-time fans. Instead, he spent the set focused on the younger crowd; those who will be with him into the future starting now. And really, even if his masks and moves were fairly stock in the grand scheme of calculated rock theatrics, he executed all of it with awesome confidence and clearly had a great time performing — an indication that the show looked and sounded exactly the way that Segall meant for it to. If the show did not provide revelatory moments that many fans and critics seem to attribute to Segall's gigs and albums, it still reaffirmed his reputation as a reliably solid rock performer and songwriter.