The MOTN (standing for "Middle Of The Night " productions, pronounced Mot-en) is a comedy club and tattoo studio run by Austin Jamison and his best friend Jake LaPierre. After their original location burnt down in August 2022, the support of their community through a successful GoFundMe allowed them to get back on their feet just three months later. Setting up shop with Harbour Podcast Studios in the Downtown Eastside, The MOTN is back up and running — selling out of almost every show they put on. The MOTN hosts numerous unique shows every Thursday and Saturday, from stand up comedy, live movie commentary (such as Mean Girls), and shows with bizarre twists like "Hot take" where comics perform while eating increasingly hot chicken wings. The MOTN's forever changing interior design makes the space always feel new, keeping both its atmosphere as fresh as its material so each visit back is a new experience. The idea is to provide an "art space that could be used for anything, and was affordable for artists" makes The MOTN a space made by, and for, artists, and definitely should be checked out if you want to see a comedy show like no other — or get a tattoo from its in-house studio. Over the phone I got to speak with Austin about The MOTN's history, their unique and wild shows, the future, and AI changing the landscape of art forever.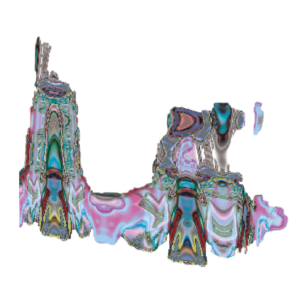 What inspired you to create the MOTN? and when you started it, what kind of space were you trying to build?
I was just going through our old website and it was really interesting because I got to see how the MOTN has evolved over the years. Originally the idea was to be a walk-in photography studio. Back in 2020 I was doing photography and making videos, but renting out studio space was expensive and not particularly accessible — especially for anyone that wasn't exactly a 'professional.' I figured out how much we needed to make to stay afloat, and how I could do this so it was the easiest and most accessible to people who maybe weren't 'pros,' but still wanted to shoot in a professional studio space. Because you can't become a pro unless you get to do that. That was the original foundation of the MOTN, and we did that for a while, but then we started taking on event bookings. Like birthday parties, bachelorettes, yoga, BDSM convention stuff, corporate parties — we really just ran the gambit on everything.
What made you make that switch into being primarily a comedy club?
It was actually my buddy Brendan Washburn, a comic who I'd worked with on a short film. He reached out and told me he'd seen some photos of the space, thought it looked awesome, and asked if I've ever considered doing comedy. I've always loved comedy and had never thought about making that transition, but it sparked something in me. I started with just doing a few shows, eventually got to working with comedian Sean Macdonald on a show called Hot Take. Hot Take really blew us up, and after that it was full steam ahead. I'm also a fairly anxious person so concerts were just so stressful with the noise, the crowds, and the energy people were bringing to them. Which I understand — it's a concert. People want to let loose. But comedy really just grounded things for me. After shows I had people coming up to me saying, 'oh my god, this feels like going to church.' It sounds silly, but that kinda emotion, the laughter — it's therapeutic. So I understand what they were saying with it feeling a bit like church.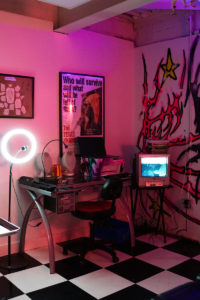 The comedy shows you put on at the MOTN seem to be a little different from conventional standup as a lot of your shows seem to have unique themes such as comedians taking psychedelics before they perform, or Truth or Dare. What should one expect from a comedy show at the MOTN?
Basically the idea is to create shows that sound enticing enough to get you out of the house. Once you're a fan of comedy it is so easy to get hooked and dialed in. It almost becomes like sports — you become a fan of certain comics, you listen to their podcasts, and watch their specials. So we put on these unique shows to act as an entry point, because people might not be interested by a poster that just says, "Standup Comedy Show." Especially with younger people, they've seen Wired's videos where people do Truth or Dare, or Hot Ones, which is a major inspiration for Hot Take. People have seen these premises and start to become fans of the artists, and that's exactly what you want. Shows that are a little different also allows you to see those comics multiple times and not become exhausted by the material as the improvisation keeps it fresh.
The MOTN burnt down at the end of this summer but you were able to have a crazy fast turnaround and opened your new spot just 3 months later. What was that whole experience like having to start over, and what were the challenges?
The fire was an emotional rollercoaster. Immediately I knew that we were up against some challenges with restating, location being the biggest thing. We had also just gotten to the point where we were super comfortable in [the old space] and I felt very proud of the aesthetic. We had just hit the one year mark, and done a big renovation to give it some new flavour too. Then, you know, it was sad because I knew how important the community was to a lot of people, not just for comedy, but also for the cyphers that we were doing with Icon HipHop — which was free open mic cyphers for anyone in the community to be able to come and perform. You weren't put on a stage or any kind or pedestal, you're in a crowd with all these people that want to support you, they want to love you, they want to hear your music. So I knew that was going to be sad because it was their home as well. I also had to think about Jake and Jamison, two of our tattoo artists that were then trying to figure out how they were gonna pay their rent, so a lot of things fell on my shoulders in a short period of time there.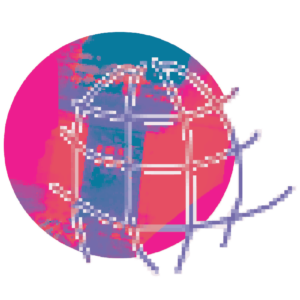 So how did it all come back together?
Well luckily we had a bit of a start up from this crazy awesome GoFundMe which Sam Pilson started, it was shared like 400 times in less than 48 hours. We had hundreds of people donating, it caught like wildfire and it was pretty incredible [to see how many people] appreciated the MOTN. It's not particularly lucrative, especially the way I was running it, not to say that we were drowning, just the goal was to be able to put money back into the pockets of the artists. The idea was always to help the artist first and foremost. So, it was nice to be able to get that feedback in the end. I then got to meet Jordan at Harbor Studio Podcasts, which comedian and friend Mario Lopez helped bridge that gap as he does his podcast there. Jordan had a big location and was only using a fraction of it for the podcast studio [….] you know it just checked off all the boxes, we could get back up super early without losing any of our momentum. Destiny or fate, whatever you want to call it, it was pretty perfect, so super grateful for Jordan giving us that trust. Now we're doing things pretty strong and have a good partnership working together in the space.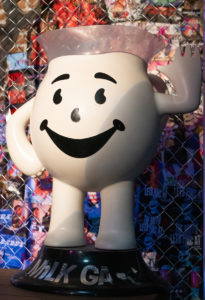 Besides the location Is there anything different about the new MOTN?
It's definitely a bit classier compared to the old MOTN, where we ran things a little more 'go as you go.' I didn't mind if someone wanted to smoke a joint inside and things like that. We could also do shows whenever we wanted, whereas at the new location, we are only doing shows on Thursday and Saturdays because there are so many floors in the building that we work alongside. I don't mind though — those were our best days anyway, so right now we're in a nice routine of selling out pretty much every weekend. We actually saw people reselling tickets from our opening event for like, double the price which was bizarre. Also being able to work with Jordan brings a whole new side of production to us because he is a wizard with cameras, podcasting, and audio which means things like live podcasts are on the way. Overall, working with Harbor Studios just brings a whole new technical side which will definitely open up more opportunities. We could also take on another tattoo artist, so that's new. We now have a great green room for comedians, and my hope is that it can become a spot where out of town comedians are told from their friends they have to go and do a set. The whole place is just quite a bit nicer and cleaner, everything about it feels like an upgrade.
If you could have any comic do a set at the MOTN, who would it be?
Well, Pete Holms is coming to town for JFL, if Pete Holms came and did a set I could die a happy man.
You recently released your first clothing designs and did a couple of T-shirts. Is there anything you're getting more into right now or something that you're exploring?
The clothing stuff is something that we're going to be leaning into in 2023, trying to get more … not merch per say, but designs for some of our main shows so fans can wear them on the daily. I'm really interested in AI art right now, there is a huge conversation going on about that at the moment. I think it's super fascinating where that technology is leading and I've been kinda on it since the first couple of weeks it was released. I was in the early beta stage of Mid Journey and getting to see how much that technology has grown in the past couple of months is incredible. It's going to change the landscape of art, for better or for worse I don't know, but I believe when new technology comes out, getting in on it early and learning how to use the tool (for the tool that it is) is an important skill to have. So I've been working a lot with that, one of our shirt designs was made with AI.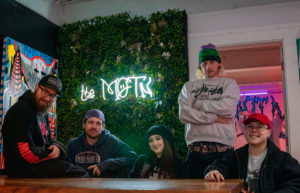 I know you had a very successful crowdfunding campaign and you got a lot of support from the community. But do you feel like the City of Vancouver is here to support artists and help places like the MOTN thrive in Vancouver?
To be honest I haven't really gone and looked for that support, but the short answer is no. The city is not really inserted in comedy yet, but comedy right now is the number one media export on the rise and the city is still so focused on film. I would love for them to recognize that comedy is going to be a major export just like how film is here. The same way places like Toronto have music, comedy is going to be the next frontier in media. It's growing so much. If you look at the numbers of any given podcaster/comedian and compare those with TV, or Hallmark movies, which are super supported and funded by the city, comedy is just getting way more eyeballs and attention. But you know, we're doing alright without them and I don't expect comedy to be the number one priority for a city that has a lot of issues at the moment.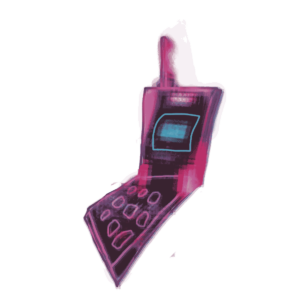 What are your future goals and ambitions with the MOTN? Do you have anything you want to do or create in the near or far future?
I kinda work from goal to goal, so right now we're gearing up for the next Just For Laughs (JFL) season. It would be great to get our club added onto the list of venues for that festival. We got the opportunity to work with JFL last year at the old location, but they were booking during the time we were gone. We're also hoping to have comedians from outside Vancouver to pop in at our spot. I really do think we offer the best space for a comedian to go do comedy. A close second is our friends at Chop and Chew — they really treat their comics well. But now that we have this really great setup, thanks to Jordan, the filming of our events is just top notch. It really is the highest quality of video for stand up comedy in Vancouver. And there are definitely other clubs and venues doing it as well, and they have been doing it for a while with a loyal following, but we're catching up to them pretty quickly. In terms of anything bigger going on, there's definitely been some conversation about running a festival of our own, that's something I've been kind of toying with. As well as getting back into what I find creative for myself, with things like video production and flexing those film muscles a little — that's on the horizon for sure.
Anything you like to add or say to anyone reading this?
I'm 22 now. I started the MOTN when I was 20 turning 21, you just gotta find what you want to do, don't tell anyone about it, and once it's done, then tell people about it. Because a lot of the time people will lose the energy out of their passion by talking about it because talking about gives them a lot of endorphins. For the first MOTN, I didn't tell anyone about it until it was done — besides my mom, dad and girlfriend at the time, and it was the same thing with the new spot. When you release that energy into that world and you tell people what your plans are, you're getting rid of the bulk end of the dopamine that you get from when you actually do it. So If I could give any advice for anyone trying to chase their goals and dreams, I would go ahead and do that.
You can follow The MOTN on Instagram @the_motn to keep up with what they're doing and for tickets and showtimes, or check out their website https://themotn.com.