If the whole point of comedy is that it is relatable, how does one make a minority experience funny? For Tin Lorica and Savannah Erasmus, the answer is simple: by making it raw and personal.
Five months ago these two friends founded Millennial Line, a monthly comedy and poetry show that emphasizes marginalized people's voices, without any pretensions or sense of heroism, but with a desire to create a space for themselves and others to have their jokes heard. Savannah, a Cree woman, describes her experience with comedy as just not being made for people like her. She wanted to perform, but just didn't have the right outlet. Millennial Line came as a place where those without a mainstream narrative could find a mic, a stage, a spotlight, and at least 5 minutes of the public's attention to have their voices heard.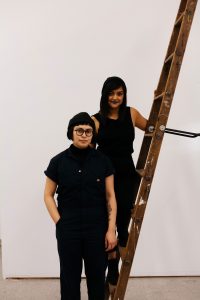 For the first-time hosts, the show hasn't been without some learning curves, but since its creation, Millennial Line has fostered a unique audience of its own, bringing together people looking for something other than the homogeneity of prevailing comedy shows. Co-founder and queer Filipinx comedian, Tin, puts it simply, "we started this thing for ourselves, because no one was gonna do it for us."
Tin and Savannah don't claim to be speakers for marginalized people, as they only have their own personal experience to speak from, which that is exactly what they do in their comedy sets: they speak from their own lives, telling anecdotes, sharing observations and being brutally honest.
For Savannah, comedy is a way to make difficult conversations accessible. As a former SFU International Relations and First Nations Studies student, she was having conversations about the marginalization and systematic oppression of Indigenous people, but in an academic context that did not reach the audience she desired.
"I saw humour as an easy accessible way for me to share my experience for people to really understand Indigenous problems and the difficulties we go through. Humour is accessible and laughter is a bonding [experience]."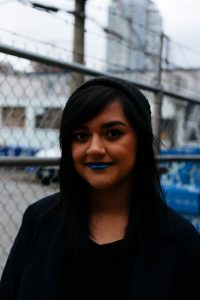 Savannah's interest in comedy comes from her experiences growing up where in difficult times, such as the passing of loved one, her family would use humour to cheer each other up. Being surrounded by silly personalities made using humour to spark a conversation always feel natural to her.  
On the other hand, Tin, who admits they are constantly uncomfortable in social situations, has always thought they were funny as a child and found an outlet on stage for that creative energy. They like the attention and performing stand-up comedy is a way of expressing a very honest aspect of themself; it's a validating and confessional experience at the same time.
A part of one of Tin's sets is their coming out story to their parents. It is not necessarily redeeming, and is at moments tense, but it is also part of their coping mechanism. Humour has allowed them to process their fears and open a vulnerable and emotionational place inside of themself to share and connect with others. It also helps them subvert the assumptions or expectations that get placed upon them. "When I'm on stage people will assume who I am and [then I] hit them with something unexpected. It's fun to combat my anxiety about what people might think about me with the these jokes about my experiences and who I am."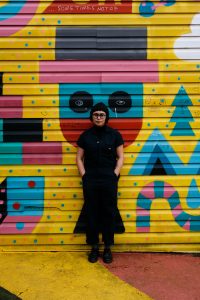 For Tin and Savannah, both have found a therapeutic space in comedy where they can share their experiences in a non confrontational manner.  "Personally I find that my comedy is personal and helps me work through things I haven't been able to work through before. It brings me closer to people in my life because I stopped hiding that part of myself and I've been completely honest," says Savannah.
Tin and Savannah's comedy is not the mainstream standard and neither is their show. When asked about why emphasize marginalized voices, Tin's answer is simple, "It is literally the bare minimum." However, their intent is not to become "so cool" that they become unrelatable and inaccessible. Savannah is well aware that sometimes she is unrelatable, but that is also part of the fun of humour: to see what people laugh at. However, Tin embraces their relatability in being honest about their alienation regarding mainstream media. At the end of the day, comedy creates a sense of belonging through the shared experience of laughing together.  
Being different, honest, and raw is what makes Tin and Savannah's comedy refreshing. People want to hear what they haven't heard before, and they have provided a space for those voices to be diffused. Millennial Line is providing a new perspective of the unheard voices one joke at a time.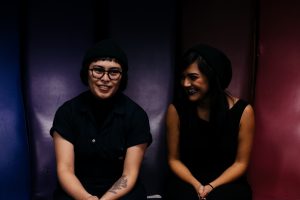 Catch their next show on February 28 at Red Gate Arts Society, featuring poetry by Jessica Johns, Autumn Schnell and Brandi Bird, and comedy by Alain Williams, Gina Harms and Amber Harper-Young.