Shannon Lester is a queer interdisciplinary artist with a focus on 2-D art and drag performance. He is co-founder of international drag-based performance art troupe KKBB Collective formed in Osaka, Japan and is known in drag as Sasha Zamolodchikova. Born in Vancouver and raised in Newfoundland, he currently resides in Kelowna, BC where he is the curator at the Rotary Centre for the Arts. Shannon's work explores issues surrounding the body, identity, portraiture, and gender politics. His work aligns with pop surrealism, magical realism and low brow art.
The cover painting created for Discorder Magazine entitled "Bukowski Lover" is a portrait of Kelowna local musician and friend, Bo Scavvies. The piece was a collaboration between the two incorporating elements that were important to the model (his Bukowski book and embroidered blanket) and kink props (pink fuzzy handcuffs and blindfold) that Shannon has handy for his drag performances. The piece is simultaneously a portrait of the musician and the artist, exploring levels of trust and intimacy between artist and model as well as between two friends.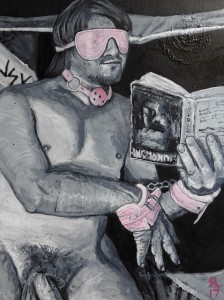 The calendar piece, "Cosmic Gayging" is about the artist's relationship to being a gay man over 35. The idealized youth in the background represents longing for the past and a more world-weary traveller in the foreground representing the future. The painting is meant to be both playful and poignant, dealing with our cultural obsession with youth versus the realities of ageing and the wisdom that comes with age.