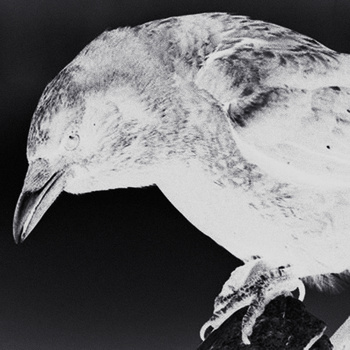 What do you get when you spend a year and a half scavenging the carcasses of 20th-century rock songs, then spend another year and a half frankensteining them back to life? If you're the Crowbots, you get five energetic tracks that sound at once classical and freshly technical.
Recorded in 2013 by Justin Guptell, this album sounds like you're getting a rockin' live performance in the comfort of your own headphones. That's because The Crowbots recorded the whole band in the same room, at the same time. As a result, the sound is raw and loose and under-produced, but also right on the money. The Crowbots draw you in with familiar sounds so you're close enough to feel the blast when they put the hammer down in songs like "The Shakes," or when they cross into the realm of advanced waveforms, metallic pulses, and fuzzy frequencies right in the middle of boppin' songs like "Ceci Doo-Wop" and "Gridlock Boogie." Days Run Away moves like a noisy river through rock's tumultuous history and picks up its fair share of treasures along the way.
If there's one fault in this debut EP, it's that it's easy to think you've heard it all before — but keep listening. It's the same bottle, yes, but the wine is new. Those Marty McFly Fender Strat solos turn into dreamy ice cream beats, and those Jimi Hendrix riffs turn into Mark Mothersbaugh synth pop, just for fun. All things considered, Days Run Away is refined but still spontaneous, like a good hair day. It marks The Crowbots as a band to watch out for in 2015.