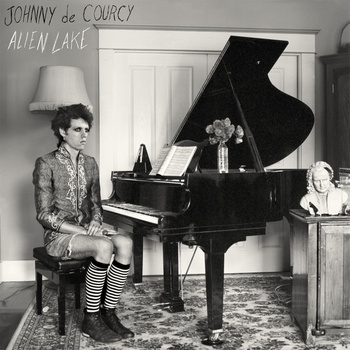 The nature of Alien Lake is a fluid one. Johnny de Courcy reveals no limit to his creative and musical capability, infusing this latest album with inspiration from various genres. While each track may sound different from the next, there is a notable flow in the way Alien Lake progresses. De Courcy and his bandmates are careful not to sacrifice variety for cohesiveness.
An influence of sounds, ranging from psychedelic-blues to country-infused rock, are evident on this eclectic 10 track album. The album's ninth song and title track is a mysterious and lucid tune, orchestrated by a beautiful piano ballad, as well as a saw (yes, a saw). De Courcy and his crew got pretty innovative on Alien Lake, offering variety in each song that will satisfy any musical craving you might have. Recorded in the Okanagan, de Courcy partnered up with Malcolm Biddle and Dada Plans' Matt Kyrsko to piece together this strategically eclectic album.
Right off the bat, "I Can't Be That Man" cracks like a whip. The buildup starts off fuzzy and loud, but by the chorus the tune mellows out. A heavy guitar riff that pays homage to Heart's "Barracuda" brings the song to an end. Next up, "Southern Plain" continues to showcase the album's rock 'n' roll side. This track is a concoction comprised of one part Tom Petty, two parts Chris Isaak, and three parts a seamless highway drive.
Alien Lake continues on with "Amélie," which is dripping with a sweet melody and happy lyrics like, "And now you're the most important part of me." Hard to believe these words are coming from the same person singing "Please be wary of my love" on the album's first track. Soon to follow, "Wind Chimes" begins with an ominous tone that completely shifts gears when the chorus strikes. Hard hitting drums and vocals, combined with a booming guitar solo remind us of the versatility de Courcy plays with throughout the album. One minute a brooding track, and the next a heartfelt belt-out, de Courcy taps into all your emotional reservoirs and musical palettes.
Johnny de Courcy really takes the role of musical shapeshifter in this album, playing with a range of different genres and merging them together in his songs. If Alien Lake is a place that truly does exist, I'm packing my bags now.