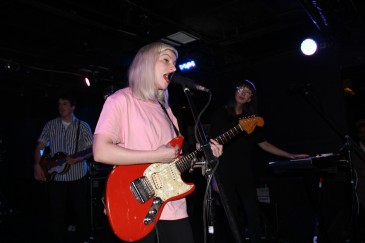 It's a novelty to walk into a bar and be greeted by a mounted deer head — but novelty and kitsch are something of a decorative theme at the Biltmore, where the walls ooze eclecticism and rockabilly camp. The Biltmore is known for hosting dynamic Canadian talent and on the chilly night of Wednesday, December 3 two rising names in the Toronto music scene were here to perform, both playing in Vancouver for the very first time.
Recently listed as one of Rolling Stone's "10 New Artists You Need to Know," the krautrock-inspired Absolutely Free took the stage to a large and enthusiastic crowd. Within minutes their sweeping beats blanketed the crowd in a field of deep hypnotic frequencies. The low ceilings of the venue served as an effective sounding board for the band's complex percussion-driven space-pop.
Absolutely Free's set was less an opening act and more an experimental theatrical happening; a fusion of sound, smoke, and high density energy. Matt King's ambitious multitasking of vocals and percussion was interesting to see onstage and if it presented a challenge to the singer the audience wouldn't have known from watching him.
I approached King after the show to ask about band influences and he rattled off a laundry list of themes, genres, and styles. Hard to summarize, their vision is truly inspired by music from all corners of the globe; from German psychedelic to African tribal to Bollywood — a cosmic conglomeration of cultures, if you will. When I asked King what the difference between playing in Vancouver and Toronto was he said with a laugh, "Well, it seems we had to prove ourselves quite a bit here tonight."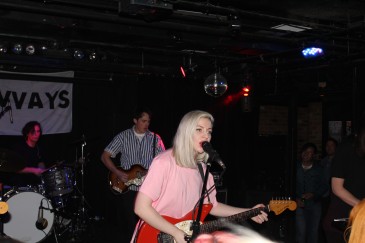 Indie pop headliners Alvvays have also had quite the year of recognition, with their self-titled debut appeared on Rolling Stone's "Top 50 Albums of 2014" list.
It was no surprise that they were greeted by a grooving and bobbing crowd as they took the stage. Nova Scotia-bred lead singer Molly Rankin's lollipop sweet vocals conjured up images of high school beach parties and boardwalk broken hearts. "Archie, Marry Me" could easily be on the soundtrack to a hip indie reimagining of the Sandra Dee classic Gidget. With lyrics like "You've expressed explicitly your contempt for matrimony / You've student loans to pay and will not risk the alimony," Alvvays related to the urban 20-something crowd.
Throughout the set Rankin's vocals were complemented by the harmonic instrumentals to form a thoroughly appealing indie pop package. Time sped by as Molly entranced the crowd with her edgy, girlish charm and irreverent attitude.
Alvvays' flowing guitar chords and relatability presented a compelling contrast to the complex stylings and atmospheric rhythms of Absolutely Free. If anything, the differences between the two bands elevated them both and gave each an opportunity to capitalize on the elements that make them unique. Given the energy, originality, and dynamism of tonight's acts I'd wager that both Absolutely Free and Alvvays have a bright future ahead of them; and it seems like I'm not the only one that would agree.