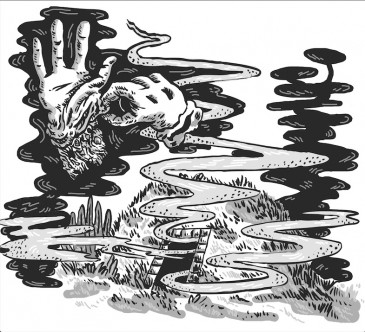 In the absence of performance, recorded music takes on an air of effortlessness. Yet no sound is independent of a source. In reality, the way we receive captured music is always through forms of media, or mediums. Though it may seem inconsequential which form this media takes, that is not necessarily the case.
Canadian philosopher Marshall McLuhan, author of the celebrated phrase, "The medium is the message," might contend that forms of media are not often enough considered in today's music saturated society. In McLuhan's 1964 text, "Understanding Media: The Extensions of Man," he writes, "the 'content' of any medium is always another medium," meaning that a cassette or record used to hear music is, in itself a piece of content.
Vancouver's new experimental music label, Vague, is acutely aware of this relationship between technology and substance. In fact label founders and local experimental musicians Fraser Dobbs (Drogue), Caton Diab (C.Diab), and Ian William Craig, not only know "the medium is the message," they embrace its possibility.

Vague was prompted this past summer by Craig. He called up fellow musicians Diab and Dobbs suggesting they, quite plainly, start a music label. Being regularly billed together at local shows, the three friends found their artistic interests and values were already well-aligned. As a result, there was no debate when determining that Vague's specialization would be in releasing music on physical formats.
Sitting in Commercial's 6th Avenue Royal Canadian Legion with Diab and Dobbs, the pub harbors an indistinct dimness, perfectly suited for the start of discussion. According to Diab, the title of their label was born of vagaries. Quite literally, Diab explains how the three friends "kept coming back to the word vague."
A both ubiquitous and memorable word, it was only after some thought that its obvious appropriateness also struck. Dobbs explains that the group always wanted to focus on physical mediums and one of the charms of these mediums is that they change over time. At the whim of a needle or warped Walkman, music may degrade, "So even if you record something super specific, and that totally encapsulates everything you're doing at that point in your life as a musician, it's still going to change and be less specific than it was when you recorded it, if you release it as a physical thing."
He goes on, "I really like the idea that stuff we record isn't going to be the same in 50, 100 years. I really like the idea that it could be vague."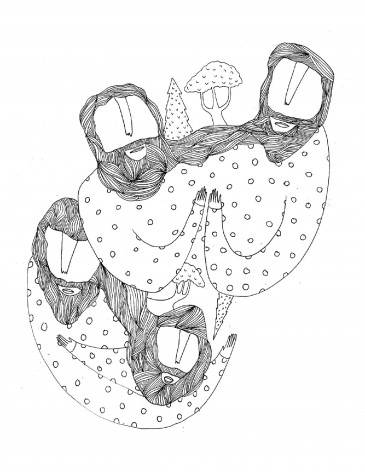 Aptly branded, Vague's passion for analogue music has been compiled on "normal-bias 6-minute, 'smoky' c-zeros." This means, the cassettes they put out ascribe to a certain visual and audio professionalism, seldom seen in Vancouver's DIY tape scene. With cassettes as canvas, Diab boasts, "you can work with more than just the music."
Their current three tape releases — Long Metrics (Drogue), Interludes (C. Diab), and Theia & The Archive (Ian William Craig) — can attest. Each image adorned by one of the founders (corresponding to their own music project), Vague wholly embraces physical mediums by extending the music experience beyond sound.
And lying just beyond sound and sight is Vancouver's experimental music community. A group, Dobbs admits, who often conforms to the idea of the "nervous artist." He elaborates, "You don't get a lot of bedroom rock bands, but you see a ton of people who have been playing guitar with a loop pedal in delay for a year." This, less glamorous music genre, produces a mass of amazingly unfiltered audio. After getting fed up with "seeing people under represent themselves as experimental musicians," Dobbs found strengthened cause to support and showcase such artists.
"Putting on shows is definitely a priority," he states. And only a short time after Vague's inception, the label began participating in the local experimental music community. The launch of their first three cassettes took place this December at Big Joy Festival. Helping to promote the festival gave the guys at Vague not only a sense of solidarity with the event organizers (Shaunn Watt and JP Doucet) but also a first-hand account of another way Vague can breathe life into Vancouver's experimental music scene.
Whether attending or organizing, Dobbs says, "I think you'll automatically help a community by showing your support for it." Vague aims to do both and more. Organizing, promoting, and releasing music are all welcome territory according to Dobbs. As the label's title blurrily asserts, "Vague can be a lot of things."
Facing the encroaching future, the guys at Vague carefully, selectively, encourage a music experience that is at once sonically evolving, visually enticing, and physically engaging. At Vague, "The medium is the message" is more than a philosophy; it's an opportunity.
___________________
Check out more from Vague on their website.