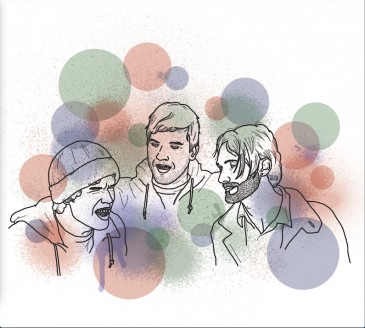 There isn't a lot of information online about the Written Years. They have a Twitter account and a Facebook page, like most musicians well-versed in the power of online presence in today's generation. Their website is minimalist; a short description of their sound, and the opportunity to stream and purchase their self-titled debut album — which was released on January 28, by the way.
When I meet the band on a bustling Saturday afternoon inside Metrotown, I am armed with relatively generic questions regarding the making of the album as a result. That being said, I leave more than satisfied with their thoughtful responses — and a story about an all-out war pitting Batman versus Superman (in action figure form, that is). Childhood memories aside, this trio has a pretty good idea of what they're doing in the music industry — and it seems to be working out just fine.

Comprised of Wade Ouellet (vocals/guitar), Kodie Krogh (guitar), and Kane Enders (drums), the Written Years is a musical endeavour that took shape a few years ago — though originally under a different name and slightly different lineup. "Wade and I started playing music around the same time when we were 15," Enders shares. "This most recent project birthed once the two of us hit Vancouver (all three members, in fact, originate from Kelowna) — and had been playing and writing together for a while. When we invited Kodie into the mix, it became what it is today."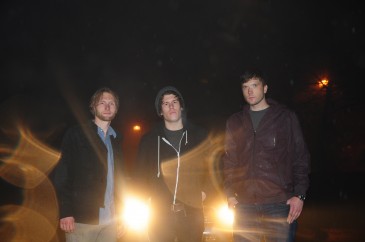 Self-described as winter rock, Ouellet explains that the season encompasses many of the feelings associated with their music. "Some of the ambience; a bit of the moodiness," he says with a chuckle. "It really just sounds like the Lower Mainland to me," remarks Krogh. "The ocean, the coast — BC, really!"
A project six years in the making, the band finally released their debut album last month. "We just couldn't get our shit together," jokes Enders about the convoluted process. They laugh, with primary lyricist Ouellet explaining, "I just take a long time to write songs — until the point that I'm happy with them. Then it takes a long time to arrange them. We went through a lot of different lineups… a lot of different renditions."
The first five years of the process consisted mainly of demoing, and the album was recorded at Echoplant Studios in Coquitlam over 2013. Still not fully content with the songs, the band continued to refine the lyrics, guitar lines, and melodies — rewriting right up until they recorded the album. "It seemed like a pipe dream for a while, because so many things were changing," Enders admits. "It was hard to lock down. But that process was good too, because we got to write and rewrite the songs, getting them to where they are today."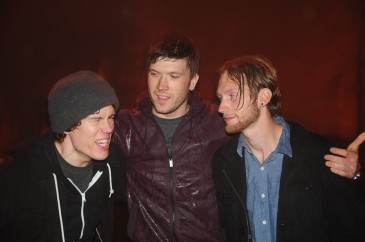 After listening to the album a few times myself, it's safe to say the trio should be pleased with the finished product. Openers "It's Not Your Fault" and "I Would Miss My Home If I Knew Where It Was" are nostalgic, folk rock-inspired tracks, accented with sweeping instrumentals and Ouellet's acid-tinged vocals. The melancholic "You're Too Kind" boasts infectious guitar lines and gang vocals that pack a punch at just the right time.
Lyrically, the themes of affection, belonging, loss and nostalgia reappear through the album — subject matter inspired by experiences surrounding Ouellet and the people around him. "When I write, I don't really think about how other people [will] receive it; that comes later, in a sense," he notes. "I just write with what is happening around myself, and people I know. Those four themes kept coming up, and the album became a concept album around those ideas."
Though challenging to pinpoint what acts they compare themselves to, all three members of the Written Years agree that the National, the Weakerthans, and Arcade Fire are large influences in their sound. "We all have our own background musically, but we also share influences and everything melds in its own organic way," explains Enders.
"Kane came from a jazz background, so he incorporates some of that drum style," Ouellet adds of their complex sound. "Kodie came from a metal background, and a singer-songwriter background as well. I've always been a singer-songwriter," he says, citing Steve Earle and Bruce Springsteen as personal inspirations. Proving that their group creativity stems from its member's individual interests in multiple avenues of music, Ouellet also scores movies (as a duo with fellow musician, Michael Cumblidge). Search "WO/MC Desolate" on YouTube for a stunning example of their work.
"Personally, I've always identified with the lyrics," says Krogh. "The first album I ever owned was Clumsy by Our Lady Peace." This statement sparks interest with Enders and Ouellet, who both admit that they recently rediscovered the Canadian rockers. "I remember being a kid sitting in my room, playing with a Batman and a Superman," Krogh continues. "I would put Clumsy on, and have those two guys fight these epic battles. And then I'd have "Superman's Dead" playing in the background… it was cool." He reiterates that "it's always been about the lyrics" — now over the muffled laughs of his bandmates.
At the time of this interview the band does not have the details of their album release show confirmed — only mentioning that it will take place late February. Following the show, they plan to start playing concerts across British Columbia.
When asked what they hope listeners will take away from their debut release, the band remain cleverly elusive. "It comes from its own place," Ouellet shares with a smile. "I think it will speak for itself," concludes Enders. "We wrote music that we wanted to write, and we're all really proud of it."
_________________________
The Written Years' CD release party is set for February 21 at the Railway Club.