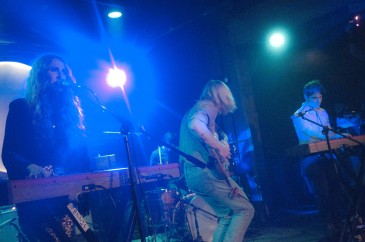 Gathering the spirited gravitas of the Byrds or maybe the Hollies, venerable Vancouver act the Shilohs were in the midst of a jangling, honeyed-harmonied set when I ambled up the steps of the favoured Fortune Sound Club. The always inviting abode was filling fast, particularly for a Monday night and, while a little let down at myself for my tardiness, at least I caught a conquering rendition of "The Place Where Nobody Knows I Go" from the Shilohs' debut, So Wild.
It was a speedy changeover and next up was Pacific Northwest act Poor Moon, which featured Christian Wargo of Fleet Foxes. Casey Wescott, also of Fleet Foxes, is also a regular part of the Poor Moon line-up, but the tour is a solo effort and Wargo's ruminative and pastoral folk song selection reflected this warmly. His mellow, likable cover of the Kinks' "Sitting By The Riverside" certainly accentuated the yearning, nostalgic British folk-rock leaning that both the Shilohs and Poor Moon were aesthetically revisiting.
With two critically lauded and much loved long players to their credit and a new 5-song EP, Small Sound, Denver husband-and-wife duo Alaina Moore and Patrick Riley, collectively known as Tennis, touched down to secure a night of light, relaxed pop pleasures, and the ardent audience was overjoyed. Both were joined by James Barone on drums, as well as a Patrick Meese on keys and bass.
The Beach Boys influence is undeniable on such sun-kissed pop pearls (with doo-wop detours tossed in) like "South Carolina," "Marathon," and "Take Me To Heaven," making introspective and attentive melodies that share an "In My Room" soothing, sweet, and warm, all in one. Moore's voice is strong and powerful, oozing blue-eyed soul (in "Petition" especially, one of their catchiest). The fresh material from Small Sound as well as some sparkling new numbers from a forthcoming LP, ups the fuzz and garage-y ordinance, frequently. "Dimming Lights" and "Timothy" feature Moore's layered keys and tense synths which move a little away from the blissed-out guitar binges of previous works, suggesting that Tennis is on a course bound for deeper waters.
A surprise saxophone player joined Tennis as they closed their set, adding extra oomph to the already impassioned crowd-pleaser "Origins" (I admit it gladly, I got goosebumps from the smooth sax). To nobody's surprise, Tennis was barely absent from the stage before caterwauls commenced, urging them back. Moore was joined by the Shilohs' Johnny Payne for an unforgettable encore as they paid a touching tribute to the recently departed Phil Everly (of the Everly Brothers). The pair did an impassioned rendition of "Crying in the Rain" that was both wistful and wonderful.
If this triple-bill is any indicator, 2014, musically speaking, is going to be tops, with Tennis scoring a perfect game on the outset.