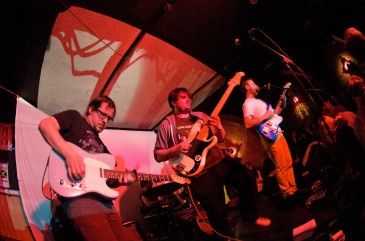 As Arctic blasts rumbled across North America and the powers-that-be threatened to turn Vancouver's venues into condos, the shadowy cabal at Music Waste was getting impatient – so they decided to throw their yearly fundraiser early. It turned out to be a good call. Vancouver saw a reprieve from the previous week's encroaching freeze and despite the distractions of the Waldorf closing and D.O.A. calling it quits (for now) several blocks away in opposite directions, the Astoria filled up for Winter Waste, a seven-band, two-stage, one-projectionist (video artist Mairin Cooley) revue.
Half Chinese opened the night, right on time. On the 90s-inflected "You Are The Sun," Enzio Verster's vocals sounded like Stephen Malkmus in hypothetical collaboration with the Dead C. Following that was an as-yet unfinished song, which started off with delicate pickwork. It turned into something ineffably chaotic, its tempo rushing to the end of the set.

Next was the Passenger, who sounded a little like Cluster and felt a lot like having too much to drink. My feelings of nausea were confirmed by the steadily-thinning crowd, which dwindled down to a few hardy souls able to withstand his gastrically-distressing onslaught. Some even danced. I love ambient noise wankery as much as the next guy, but I didn't like the way this set made me feel physically.
Fortunately, the rest of the night was filled with more straightforward punk rock bands of one sort or another. Say what you might about the scene being saturated with them, as one Facebook event page commenter did by ragging on night-closers Apollo Ghosts, but they're really fun.
Case in point: Nervous Talk, who played a medley of throwback punk tunes, veritable snapshots of that heady, mythical time between 1977 and 1981. As Nervous Talk chugged along at a steady clip, the crowd pogoed steadily as light played off the Astoria's fake grottoes.
Lié were next, sounding very much like Sonic Youth covering Siouxsie and the Banshees, tearing through their songs at a screaming pace. They could easily have ended up sounding horribly muddy and sloppy, but their set was none of those things. It was the exact opposite, in fact.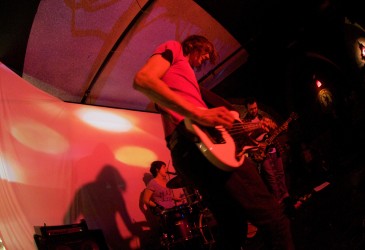 Unfortunately, the Astoria's sound system didn't do justice to the following act, Cascadia, over-saturating their already oversaturated sound. But they made the best of it, and their Polvo-inspired noise rock earned raves from the audience. The crowd swayed and bounced off each other gently, like Cascadia's music itself: simultaneously aggressive and tender. Measured and incisive on their recordings, here they are feral and (admittedly) very sloppy, playing material from their latest tape, Conditionally, as well as what seemed to be new, more post-metal influenced material. Sasha Langford (vocals/drums) amazed, freed from the bounds of tape or bits and bytes.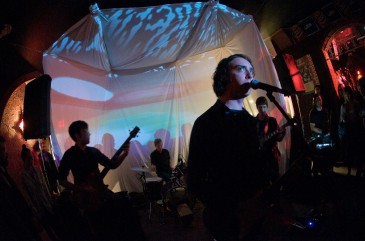 Sadly, I was too busy hanging out in front of the Astoria to see the second-to-last band, Peace, start their set, but they came through loud and clear and I caught their final few songs. As they played post-punk ballad "Your Hand In Mind," someone tried to start a circle pit, to no avail. Too bad he couldn't wait until the last act.
By now, Apollo Ghosts' live show should be, if not legendary, easily recognizable. Apparently, they hadn't played a show in four months,and their pent-up energy translated to the audience. The crowd went nuts, bouncing off each other and taking turns crowd surfing. There was so much action that Ghosts' front man, Adrian Teacher, had to warn the audience not to get hurt. Musically, the Ghosts' whole set was full of fan favourites from their last couple of albums, plus their latest Kingfisher Bluez single, "Nightwitch." Capping off the night was a brand new song, an vaguely ACR or ESG-styled art-funk number. Is a 2000s dance-punk revival around the corner, perhaps?
And with that, the show ended right on the nose, at 2 a.m. A tight end to a tight show.