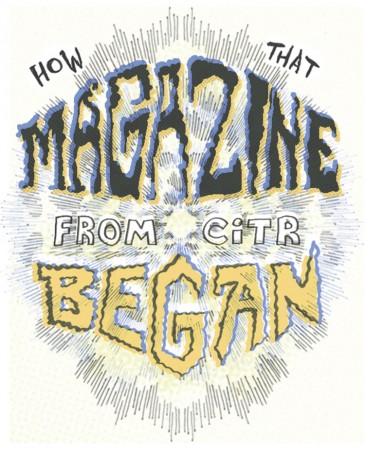 Discorder Magazine is 30 years old this month, and what better way to say, "Happy Birthday!" and reconnect our present with our past than to chat about the future with Mike Mines and Jennifer Fahrni, the founding editors of Discorder Magazine.
Three decades after co-editing the first issue, Fahrni is now the PR manager for the folk group Irish Rovers, and Mines is now a lawyer for Mines & Company. I visited Mines at his downtown Vancouver office and pulled out the February 1983 issue of Discorder, Volume 1, Number 1 — in all its original black and white newsprint glory — for him to peer over. "I must admit, not to pat myself on the back too much, but for a kid who was just barely hanging on at university, this is pretty well written." It was the first time he had looked at the magazine in about 30 years.
Mines was an Urban Geography undergrad who got turned onto UBC's radio community by his good friend and fellow CiTR alum Harry Hertscheg, the station's resident jack-of-all-trades in those days. Mines began as promotions director in his second year at UBC (1980-81) and subsequently hosted a show called Pajama Party on Friday nights. On April 1, 1982, Mines was in the studio at noon Pacific time to witness the station's official switch to the FM dial.
Suddenly this sophomore promotions director had a much larger audience to work with.

A few months later, in the summer of 1982 Mines was supposed to attend the 2nd National Campus Radio Conference (NCRC) with a few other CiTR folks in London Ontario. Although according to Mines, he didn't spend much time in London. Instead, he went to Ryerson's campus radio station in Toronto to meet up with a cute female DJ he'd met.
"I got a tour of CKLN and they seemed so much more evolved than CiTR … they were light years ahead of us." He was especially impressed when he saw they had a program guide.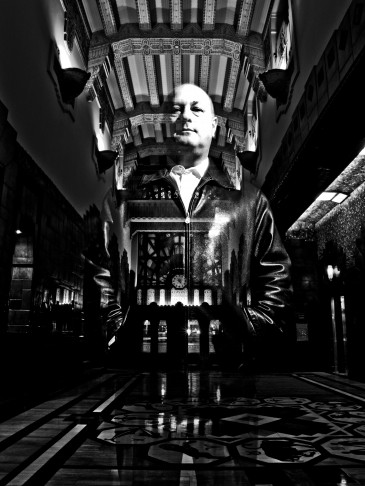 Mines humbly explains that it wasn't his genius idea to start a similar publication for CiTR. He simply replicated the CKLN concept and brought it up at the CiTR exec meeting that fall. Up to this point the station had printed a one pager called The Spin List — a photocopied list of the station's top tracks for the month—to circulate at the station and the SUB. At the time, Siouxsie and the Banshees, Iggy Pop, Big Country, D.O.A., and Wall of Voodoo were regulars on the list. While Mines originally thought beefing up The Spin List by selling ads for it was the way forward, Fahrni, who was the news director at CiTR with a commercial radio background, had more in mind.
"I came to the exec meeting with a prototype and Jennifer said, 'What the hell are you doing? Go big or go home!'"
__________
Chris Dafoe, former editor:
"I'm grateful that Mike and Jennifer started it; editing the magazine was my first step in a journalism career that took me some interesting places. I'm amazed that it's still being printed three decades after its birth, even as print media collapses around it. I'm happy that it's been so frequently re-invented over the years. Consistency may be a virtue in some media, but this a little rag that was meant to reflect the spirit of CiTR. And CiTR is ever-changing. I wonder if it will be around in 10 years. But then I wonder that about the Globe and Mail."
__________
The pair knew nothing about the technicalities of magazine publishing, but over the next few months they learned. During Fahrni's first call to a publisher he asked her how many copies she wanted. "I don't know, about 25,000? It sounded like an okay number to me." She explains that it was tough trying to sell a magazine that didn't even exist. But they pulled it off and somehow managed to bring in over $2000 in advertising for that first issue. "Zulu Records, Twizzle Hair Design, The Pit Pub, and all these local business were going in right from the start and it began to pay for itself," says Fahrni.
"Mel Brewer," the station's beer machine that sold cans for a buck a piece kept the station running in those days. This meant that many of brainstorming sessions embodied a lot of "general stupidness," as Mines says, but when it came to naming the future magazine and incorporating the disc-spinning theme from The Spin List, they hit their target.
"I vaguely remember — how can I put this nicely — the nerdiest guy at the station, a guy named Ethan Minovitz, blurted out something like 'Order Disc.'" They analyzed and tweaked it around, and finally came up with something they could all agree on in Discorder. "Originally it was pronounced 'DISC-order', with the emphasis on the 'disc' compared to today where the emphasis has shifted to the 'Order (as in Dis-CORD-er) Mines continues. "Obviously 'disc' is in there and 'disorder' is in there and we wanted to have order and yet no order. The name just seemed perfect."
"Jennifer was instrumental for technically making this thing happen; technically in terms of offering space at her mom's house." Fahrni lived with her parents on West 2nd Avenue and Blanca in a big old house with a notoriously big dining room table. Her mom would putter as Fahrni, Mines, and Hertscheg would have "paste-up parties" to physically put together those first few issues.
Mines chuckles in shock of how primitive it was by today's standards, using mechanical typewriter and X-acto knives instead of word processing programs and Adobe CS6.
__________
Mark Mushet, CiTR host and former contributor
"Given the death of print, any kind of print media that gets out there in any kind of quantity is valuable these days. That it's still there is a testament to the dedication of ongoing staff. I haven't been there in so long that I'm not sure how it functions, but I see the results on the street, and those results look really great. I shouldn't say that I'm surprised to see it still there, but I'm glad its persevered. I was just a contributor, but there were so many people who knocked themselves out to [pull it together]. And those were the days when you had a little razor blade and you were cutting it and pasting it and physically putting it together."
__________
"I remember the first day that we saw it in print," recalls Fahrni. She remembers Hertscheg, who was also the distribution manager, organized some pickup trucks and with a few other guys, loaded them up with copies of that first issue and drove them all around town. Then he came upstairs to the station with a huge pile of copies. "It was the biggest high to be seeing this thing. It looked so great and, you know, we did it!"
"The first article says what [the magazine] is all about,'" says Mines as he re-reads what he wrote 30 years earlier like a proud parent: "We advise that Discorder be cut with 100% pure CiTR. One part Discorder to nine parts CITR. Simple. But remember though, don't get carried away with Discorder. It's purpose is not to curb your aural fixation but to enhance it."
Mines sentimental side takes over. "Let me just say this too, because I don't want this to get lost in the whole shuffle. The idea behind this — clearly it's not about me or Jennifer — it's about providing another outlet, because the station is obviously such a creative place for people to get their public programming out there. And Discorder was really just another form, another outlet for UBC students and community members to express themselves and to connect with the bigger community. If anything, I am blown away that we are having this interview 30 years later."
Mines gives credit to all of the people that were there at the time, those that picked up where him and Fahrni left off, and all of the people who contributed over the years.
While both of them went onto new opportunities in August, 1983, Mines finishes, "Without getting all teary-eyed or sentimental I am really proud and honored that my name happens to be there and that I have had a small part in giving [the community] that outlet."