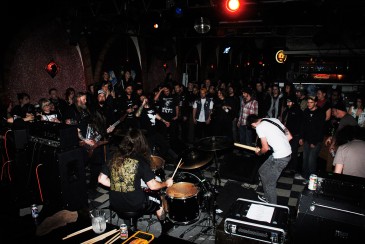 Burning Ghats headlined four hours of Vancouver metal at the Astoria Friday night. A night that offered a clear sight, in many aspects, to the endless potential of up and coming bands in the Vancouver hardcorepost-hardcore scene.
Backed by a lineup of excellent company, the five-piece band Night Terrors kicked off the evening with their first show together and in an already crowded venue, they brought it back to basics with hardcore in its simplest form. As with any first show, there was room for improvement, but with an encouraging crowd and confidence in their music, Night Terrors successfully showed off their intentions and probably grabbed some new fans in the process; they are a band to watch in the near future.

Bear Mace, as a second opening band, did nothing less than charge the room with excitement and energy. With a deadly delivery of catchy heavy riffs, mean drumming, and excellent vocals, Bear Mace embarked on an heavy, yet melodic and altering experience worthy of attention. They ripped through their latest efforts Hobo Gold EP relentlessly to a very agreeable crowd.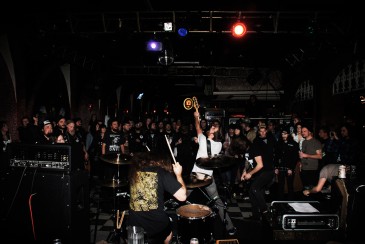 After Dead Again's rhythmic deadly ecstasy, an unexpected intro of instrumental noise rock by Night Mother reclaimed the energy from the previous bands and cleared a space for Burning Ghats to come out as a headliner should. The continuation of what felt like a dozen cameras constantly flashing and photographers fighting for the front line gave the evening a feeling of importance, as they illuminated tattoos and patched vests. With guitars raised high in the air, Burning Ghats began an incredibly strong set of brand new songs, playing their first song "Cold People" with total confidence. Not any metal band could hit the ground running after an instrumental interlude. Through a high-powered performance, the band displayed their dynamic abilities playing "Shelter Skelter" and "Gold Sores." Burning Ghats owned the evening grinding on the edge of crust-punk and post hardcore, and ended the show with charged success that they rightly deserved.