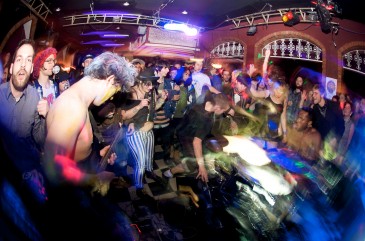 Witnessing Boogie Monster in a live setting is always fairly surreal. The way this crazy tricked out thrash from another planet brings people together is truly a spectacle that is best seen to be believed.
Unfortunately, all good things must come to an end, so if you were among the throng that gathered for Boogie Monster's last Vancouver show this past Saturday evening then you were among the fortunate. It's true, this incarnation of the beast has been officially put to pasture as Ben Fussel (guitar/songwriter) is off to New York to expand his creative outlets, while drummer Tony Dallas is putting his energy into other musical projects. So it was with heavy, but thankful hearts, that we gathered under the Astoria's roof to kick up some dust in a final farewell to the Monster, who brought some equally exciting musical friends together for the evening.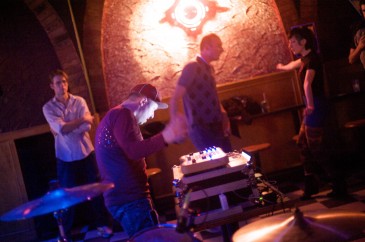 Kicking things off was Vancouver electro-core sound and beat manipulator Julian La Brooy, better known as Hitori Tori, and this dude's skill was off the rails. With a laptop and a bank of knobs, buttons, and levers at his disposal, Hitori Tori laid out frantic sampled beats and sounds at a hyper pace, creating a stuttering, but warm and friendly mix of dance tracks that had the floor packed. Much like Boogie Monster, watching Hitori Tori was like watching sped up slapstick violent cartoons, only way more fun.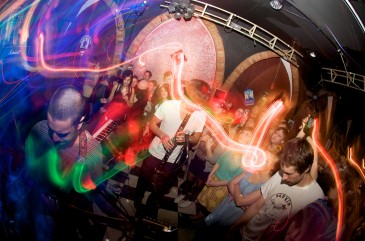 Following that one-man show madness came Half Chinese, who were a bit of a calm before the storm. Although more subdued, they still had plenty of output with their tweaked out part instrumental, part mush-mouthed vocal rock. Playing cuts off their latest release We Were Pretending To Be, the trio of Harrison Pratt, Daniel Ruiz, and Enzio Verster, had a cool, well-rounded sound that touched upon surf rock and distortion-heavy jams, while keeping it all happy and thoughtful.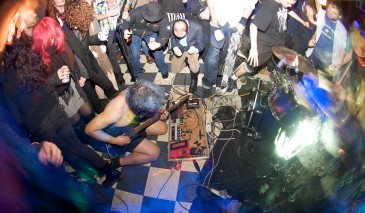 At around the chime of 1 a.m., Boogie Monster was let loose for one last run around the park. Like I said, the experience is not easy to describe—in sight or sound. The ear-shattering thrash-pop that they produce is unlike anything else and the effect it has on the audience is riveting. Offering a heaping dose of tunes from Zechimechi and a couple of new demos such as the super rousing "Clicking Tongues to the New Bug Beat" and "Izzer Dean," the boys were tighter than ever. With Fussel's studied guitar torture techniques sending him and the crowd into a frenzy, and Dallas destroying it on the kit, their tuneful lunacy was comparable to a spiritual thrashing where the hubris is shaken off and you're left standing happily naked.
Looking around at the slack jawed, wide-eyed, and ecstatic sweat drenched faces at the end of the night it was clear that the beast had worked its magic. Sadly for most it will be the last time, but in this case it was better to go out with a glorious bang than in an unfortunate blaze of glory.