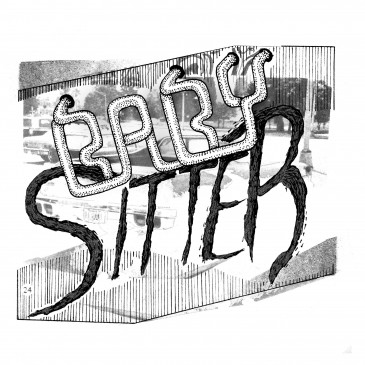 Contributing to a calm generational clash, Babysitter front-man Kristian North and I drink afternoon Caesars in Logan's Pub, a Legion-esque establishment in Victoria. Forested by square wooden tables and the slow climb of wall panelling, the pub operates as both a retirement hangout and a grungy music venue for twenty-something crowds. In the bar's beardy dimness, local post-punk garage trio Babysitter has found a welcoming stage. Even during the midday quiet, I can imagine how their cantankerous chants of rebellion and mischief would echo with enticing irony; an unconventional sound in an conventional bar.
Loud and gritty, Babysitter's music is tattooed with revolution. Made up of North (vocals, lead guitar), Andy Vanier (bass) and Aden Colligne (drums), the trio's first full-length LP, Eye, explicitly uses the word "revolution" in nearly half of its 13 songs. Even a casual listen to the album reveals Babysitter's unabashed oath to rock-and-roll. Resistance to death and old age is pledged in "Talkin' Bout the New Generation" and "Angel of Death," while freedom and youth are celebrated in tunes like "Crace Mountain" and "Prime of My Life."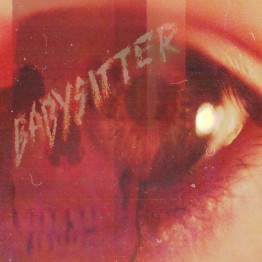 Eye visits post-punk, psych rock, and folk. This collage of sounds can be explained by Babysitter's recent team-up with Montreal-based Psychic Handshake Records. The label contacted them this summer and invited the band to re-record a bunch of previously released songs onto a new full-length. North explains, "The album is kind of like a collection of 13 songs from the last two years. The idea was that we re-recorded the best ones." Produced by Jordan Koop at The Noise Floor, Eye was released on December 3. Unsurprisingly, the album's most prominent punk escapades etch the deepest impression.
Together since 2010 (Colligne joined as drummer this March), Babysitter's ability for leaving an impression goes hand in hand with their prolific recording practice. With 15 releases of various lengths and formats already out, Babysitter is no advocate of artistic self-restraint. By "moving forward" and "not censoring" themselves, Babysitter keeps their creativity sharp. As any artist knows, it's easy to be inhibited by self-criticism. Babysitter's defense is to record and release nearly all the tunes they play.
"Momentum," North says, is what matters. "Taking something out of the head and putting it into the hand." This pseudo-spiritual approach includes releasing experimental efforts, such as a drum-absent, saxophone-incorporating cassette (even though neither North nor Vanier technically "play" sax), or a collaborative long distance album with Montreal singer JLK. North defines Babysitter's mindset using terms like "first take" and "free spirit," and reasons that "you can try to make the best album ever for a year. Or you can just make like 50 and one of them is going to be good."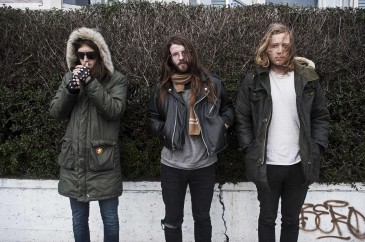 With Babysitter's release-everything-we-play mentality, the band has been faced with a ton of home recording. Without professional training, North and his bandmates have become accustomed to "using all the equipment we don't know how to use." North even suggests that these technical ineptitudes were what first drove the band into the fuzzy land of low-fi. Smiling, North jokes that as Babysitter improves on home recording, "One day I think we'll sound really hi-fi." The truth is that this band is after "something pure" when it comes to sound. They enjoy recording all their musical endeavours and they really enjoy recording them in analogue. Even after signing to Psychic Handshake, North tells how Babysitter tries "to record in analogue whenever we can."
The proof is in the pudding, or rather the feast of low-fi served on Eye. It's a riot of strings, sticks, and rough vocals. A fuzzy shadow of vibration follows every note, humming with dirty resonance. In "1969ies" the guitar riffs warble, swinging back and forth almost visibly. "Whole Hole" begins with a winding blues riff and then entertains psychedelic musings about the duality of creation and destruction. "Angel of Death" aligns North's vocals with guitar notes, building a gritty, enticing punk pattern. Black sheep of the album, "Born Superior" is a clamorous, anguished blast, thick with shrieking noise. Eye's shape is edgy and just melodious enough to be inviting.
Looking ahead, Babysitter are hoping to see open road. "We did Eye and we did our triple cassette 666, and we were working on both of those things for a long time," North says, "so now we're definitely switching to touring mode." Besides a couple upcoming releases, including a contribution to the next CiTR Pop Alliance compilation record, Babysitter is done with recording for a while. North, ambitious for adventure, speaks promisingly about the band's live chemistry with Colligne on drums, as well his enthusiasm to travel the world (or wherever the band takes him). It's definitely time for Babysitter to transition from a studio band into "road bandits." And is there a better metaphor for punk-rock and rebellion than an open highway?
__________________
Pop Alliance, featuring Babysitter's "Be Cool" will be available at Mint Records on March 5. For more tunes and info, visit babysitter.bandcamp.com.