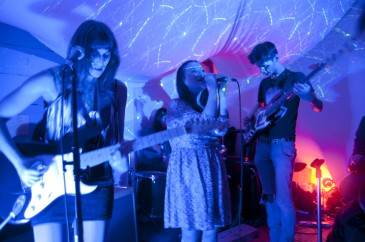 By the time the Laser Love Cats Cult burst into their first song, at least 30 people were already crowded into the cozy, dark room of Vancouver's favourite d.i.y. venue, the Zoo Zhop. The five-piece have roaring guitar solos and sweetie pie lyrics (including one song where lead singer, Peter Volbek, professes his love the way only an awkward poet could: "If I was a vampire, I'd suck all your blood"). Accompanied by, ahem, laser projections, L.L.C.C played grungy, mid-tempo psych rock songs that were either driving instrumentals or tunes with catchy, though often indecipherable, vocal melodies.
When the next band, Thee AHs, took the stage, the venue was almost jam-packed. Though probably too often described as "cutesy", it's impossible to not understand why—Thee Ahs have been gaining a reputation as one of Vancouver's best bubblegum pop bands.
Singer Sarah Lowenbot's delicate voice is reminiscent of songbirds like Leslie Gore or Peggy Lee, and she engaged the audience full of fans between every song. Before breaking into a brand new number, later revealed as "Hockey," the vocalist implored, "See if you can hear the lyrics and try to guess what it's about." Thee AHs' endearing slow-paced songs often gained momentum plying spooky harmonies with simple song structures, and despite a few technical difficulties, the outfit was well received. When the band announced, "Alright, this song goes out to everyone" and started into "To Laugh at Being Lonely", more than one person was singing along in the audience, which was pretty impressive.
The sounds in the Zoo Zhop shifted from sweet melodies to psychotic circus music once Synthcake's set began. Using synths (obviously), live drums and a trumpet, the quartet's performance felt like a frenzied video game competition. After one particularly zippy, drum-heavy song that had the crowd losing their shit, the group started offering free download cards, which had people pushing to the front to grab theirs.
Synthcake's dynamic sounds comes across like Amy Winehouse fronting a funhouse band, and singer Lana Pitre's sultry, velvety voice can make you forget all about that deranged clown that's after you. Perhaps in reference to the band's latest album, Musicophilia, Pitre asked, "Is anyone obsessed with music so much that it's, like, not a good thing?" The final number of the night, with its strange sound effects, vocal loops, haunting harmonies and a driving climax, had even the most jaded person in the crowd dancing. Despite Synthcake's bizarre Big Top vibe, they seemed to be exactly what everyone in the cold, wet little room needed. And nobody went home disappointed.