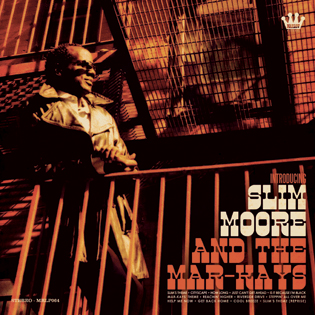 Brooklyn has Daptone. Now Ottawa and the rest of us north of the border have Marlow Records.
More than a soul label, Marlow—in the tradition of vintage imprints like New Orlean's legendary A.F.O. (All For One)—is run as a collective. Marlow's roster consists of Afro-Latin funksters the Souljazz Orchestra, house band the Marlow Beat Kings and the label's flagship act, Slim Moore & the Mar-Kays.

Born and raised in the Ottawa suburb of Overbrook, Moore cut his musical teeth in Montreal, but later moved home to join old friends who formed the Mar-Kays in the meantime. Between Moore's gospel and R&B background and the Mar-Kays tight arrangements, it was a match made in Soulville. Their debut record, Introducing Slim Moore & the Mar-Kays, features generous helpings of Philly soul-inspired orchestrations (including strings and symphonic instruments) that bring to mind Gamble and Huff's productions for Joe Simon and the O'Jays. Special guests include the One Faith Gospel Singers.
Introducing Slim Moore & the Mar-Kays has enough variety to keep the most ardent of '70s soul fans satisfied. There's the blaxploitation imagery on "Cityscape" and "How Long" (whose video actually includes scenes from a film—anyone know which one?), the Curtis Mayfield-esque "Reachin' Higher," the sweet soul of "Get Back Home" and the priceless Syl Johnson cover, "Is It Because I'm Black?" "Mar-Kays Theme," a great mellow instrumental interlude midway through the album, seems to pick up from where Young-Holt Unlimited's 1968 number "Soulful Strut" left off.
In November, Moore and the gang played the legendary El Mocambo in Toronto and are currently touring Quebec and Ontario. Pray for a "Cool Breeze" to bring them out to the coast soon.