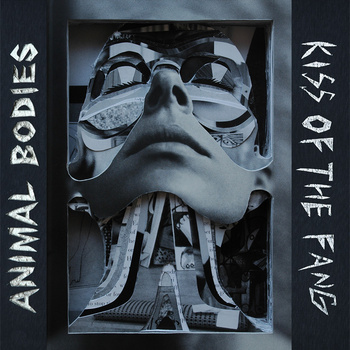 The duo behind Animal Bodies' latest album couldn't have come into being anywhere other than Vancouver's DTES: the six-song 12″ pervades with the semi-lucid noise of addicts and wanderers.
Kiss Of The Fang plays largely within the darkwave genre, mixing cold post-punk synths and cakey '80s drum machine repetition, but these tropes are only responsible for the base layer of each track.

Bleak field recordings mix up the colour palette by injecting the unfriendly kind of East Van sounds into each track — heavily distorted seagulls squawking, and a woman smoking crack in the rain are more thematic touches than musical ones, but add a much-needed dimension.
Even though much of the content is harsh, the delivery is usually spot-on enough to make it work. "Jungle Cathedral" combines a remarkably catchy, dirty bass line with ethereal, haunting chanting that scratches the inside of your head like a bad drug trip must do.
Some of the synth work, especially on the last three tracks, can get repetitive, but the chilly guitar riffs sprinkled throughout the album give a good Joy Division head-rush. If you already live on Hastings, this record might be a little much, but if you've never had it rough, these dirty songs might be a good way to grime yourself up.