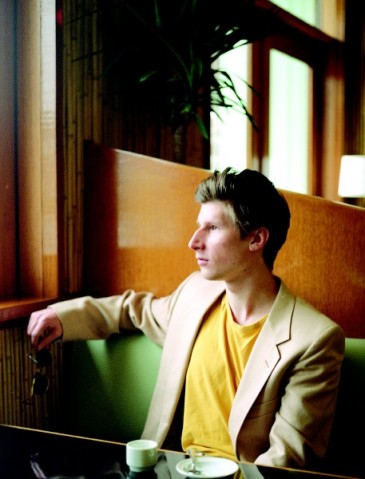 Something
The ascent of Teen Daze is a thoroughly 21st century story. It begins in Abbotsford with a Columbia Bible College student in his dorm room playing around with his laptop, creating something he intended to share with his circle of close friends. He didn't intend for his music to be taken seriously.
"It was supposed to be funny," said Teen Daze, who prefers not to attach his real name to his music.
Early cuts merged dreamy electronic pop with sounds the from viral videos that he and his friends had been watching over and over. "I played it for my friends and throughout the song, they weren't laughing as much as I hoped they would," Teen Daze recalled between sips of beer in the Paper Rock Bar above the Biltmore (which has since closed). "So at the end, I was nervous, like, 'Umm, how was that?' And they said, 'Well, it was actually kind of good.'"
Following the positive reception, he posted a pair of songs on MySpace in April of last year. The Internet liked what it heard, with bloggers praising the mysterious character from just outside of Vancouver. By the first week of May, Teen Daze's track "Shine On, You Crazy White Cap" appeared on tastemaker Pitchfork's site. A week later, they posted his "Gone for the Summer (Part 2)."
These blissed-out electro-pop gems later went on to form Teen Daze's debut EP, Four More Years. Propelled by pulsing electronic beats, the dreamy melodies float through layers of fuzz and echo hazily, like bittersweet memories. His '80s-inspired chill-wave sound (Teen Daze points to current artists like Toro Y Moi and Washed Out as stylistic touchstones), the EP's retro art and the project's name itself all evoke a profound sense of nostalgia, which, it turns out, is appropriate.
"The whole reason I made the record to begin with was I wanted to have something for my group of friends when we left for the summer after the school year," he said. "So we could have something to remember the year."
Obviously, though, Teen Daze's music resonated with people outside his circle of friends, with word of the artist spreading across North America. All this before Teen Daze had even played a show.
While Teen Daze seemed to have come out of nowhere, the "overnight success" tag doesn't exactly ring true. Before becoming a web-boosted critical darling, Mr. Daze made folk music under the name Two Bicycles. Prior to that he composed and recorded electronic music as Tremulance. The artist estimated that between 2004 and 2008, he produced about seven full-lengths' worth of Tremulance music.
The Teen Daze project's genesis as a bedroom-laptop venture, combined with the significant buzz the music received before playing a single show, belies the impressive stage show that it has now become. By his own admission, it was conceived as "more of a headphones record," but Teen Daze has become a great live act, evolving from a man and his laptop to a full band. His current line up includes guitarist Matthew Joel Vanderkwaak, bassist Brendan Ratzlaff and drummer Greg Atkinson. Daze holds down the vocals, synth and laptop.
Having recently completed a music degree from Columbia Bible College, Teen Daze has a fascinating perspective on the correlation between church services and live performance.
"I see a lot of similarities between a worship service and a rock concert." he said. "I remember seeing Radiohead at Thunderbird Stadium in 2008 … My friends and I were dancing in the rain and it was an incredibly spiritual experience. Sharing it with all those people … that's something that worship music should be [and] should strive for. Let's dance together and have it become this very spiritual event."
"You know, it's hilarious. Especially in Abbotsford, where there's this huge Mennonite community, there's this stigma that Mennonites just don't dance. And literally my entire family tree has a Mennonite background, and, of course, I'm a dance artist," Daze laughed. "In the Bible, actually, there's countless examples of ways that dance was a form of worship. And I've had so many moments in my life at different shows, it's hard to not see it as something very emotional and spiritual."
Aiming for a spiritual moment with a crowd is a lofty goal, then, when a lot of musicians might just be looking for a chance to shout on stage and get a bar tab. But Teen Daze isn't shy about trying to do something special with his live performance, nor does he hold back when it comes to releasing music and trying new things. After the acclaim that met Four More Years, Teen Daze made another pair of releases available for download on his website (teendaze.bandcamp.com): the summery, lo-fi pop of Beach Dreams and the four-to-the-floor techno of My Bedroom Floor, both of which sound vastly different from the chill-wave crooning of his debut EP.
This year will also see the first "proper" Teen Daze full-length release and, as a way to give attention to some of his friends' music that he feels is deserving of a larger audience, Teen Daze will be launching the online record label Cultus Vibes on Feb. 1. "So much of the Teen Daze material came out of a summer experience that had its centrepoint at Cultus Lake," he said. "[The name Cultus Vibes] just felt appropriate."
Whether he's making his own music or releasing that of other artists, Teen Daze hopes to keep music fans dancing. As it says in Jeremiah 31:4, "Go forth in the dances of them that make merry."